Always Icecream is an online learning site for girls only, in grades K-8.   Girls earn $coops by participating in learning activities such as practising math, geography, language arts, science, typing and more. They can then use these $coops to have some fun playing games, decorating their very own homes in MiniWorld, and feeding their virtual pets on Pet World.  We received a free membership to Always Icecream in exchange for an honest review 🙂

My 7 year old daughter has been thoroughly enjoying Always Icecream.  It is the first thing she wants to do when we start our homeschool day.  Whenever my daughter is on Always Icecream, she always ensures she has an atlas beside her, so she can identify countries and states for geography…

She has also started to learn to type using the "Ice Cone Machine"…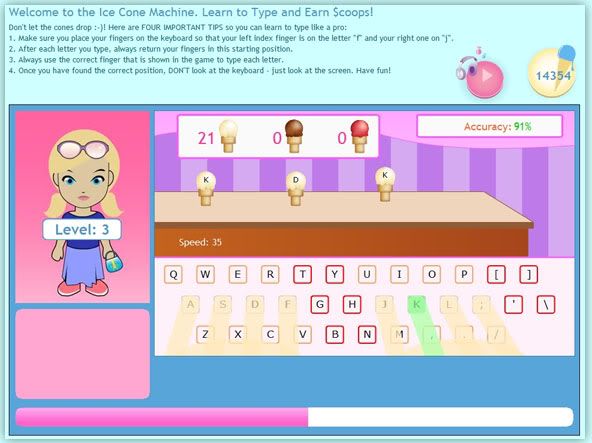 And of course, besides the educational content, she enjoys a lot of "fun stuff" too.  My daughter loves the virtual pets that hatch out of eggs.  She spends quite a bit of time drawing pictures of her special pets as well…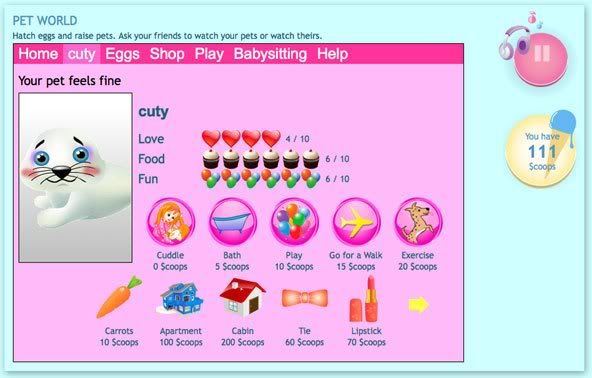 One of my daughter's favourite elements of this site is the educational videos.  She has spent endless hours watching how-to videos on cake decorating, and we made two fancy cakes in our homeschool in one week as a result!  I convinced her to take a break for a little while LOL, we can't do that every week.  And she spends a lot of time drawing along with how-to-draw videos as well.
Another of my daughter's favourite parts of her Always Icecream experience is the social part.  She is absolutely tickled pink by all the friends she has in her "Neighbourhood".  She is able to "friend" other girls and chat with them, visit their mini-homes, and shop in their stores for virtual items they have designed.  This setting is optional, as are a lot of things on Always Icecream, through your parent account.  You can turn on and off each category from "Christian Education" (i.e. Bible Quizzes) to "Math Drills".  You the parent can also award $coops, whether just because, or as a reward for doing her chores if you like.  Once a week you will also get an email updating you on your daughter's progress.  Or you can view it online anytime – it shows Your Daughter's Recent Learning Progress, Moderated Communication (who your daughter has chatted with – all communication is moderated), Educational Videos Watched, and Artwork Created in the past 90 days.
My 7 year old daughter sums up Always Icecream in a word, "awesome".  I know she'll be using and enjoying this site for years to come!
Always Icecream has a number of payment options: $0.99 US for the first month, $4.99 US per month afterward or $9.98 for 2 months, $29.99 for one year, or a Lifetime membership for $99.99!  Discounts are also available for multiple children.  You can try it absolutely free right now by going to the Always Icecream website and clicking on "Try It Free".
To see how other daughters of TOS Crewmates liked Always Icecream, click below: