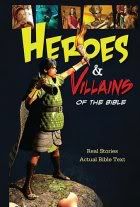 For the past couple of weeks, we've been enjoying the Heroes & Villains of the Bible e-book on my iPod touch.  This is a children's Bible, with selected text from the International Children's Bible version, and is recommended for ages 9-12. Excerpts from 50 Bible stories, about heroes from Noah to Mary and villains from Satan to Judas, encourage children to be "real heroes".
While my 7 year old daughter is capable of reading the text, she would still rather read a Bible story in more of a story format instead of in chapter and verse (and is currently enjoying her Thomas Nelson First Study Bible).  So, I will be keeping this handy for when she is just a little older and can enjoy it more.  She did enjoy discussing the stories though.  There are thoughts and discussion questions at the end of each chapter, and always a statement about what "real heroes" do.  This is great for character-building.  I found the full-colour illustrations kind of odd looking, like not-very-well-done 3D animation, but my daughter didn't seem to mind, just exclaimed in excitement at recognizing some  of her Bible favourites.
Heroes & Villains of the Bible is available as a hard cover book or as an e-book, in EPub, Mobi, and PRC format (I downloaded the EPub version for my iPod touch).  Check for availability at your local or online bookseller.
I received this book free from the publisher through the BookSneeze®.com book review bloggers program. I was not required to write a positive review. The opinions I have expressed are my own.