For the past six weeks, we had the pleasure of reviewing Visual Latin: Latin 1 in our homeschool, which we received in exchange for an honest review 🙂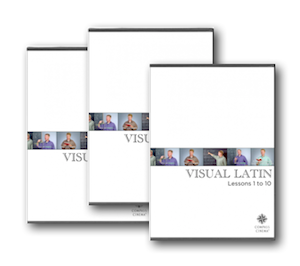 My 12 year old son thinks the instructor, Dwane, is hilarious. He has just the right corny jokes to keep my son entertained – he's at the age when he thoroughly enjoys puns! My 7 year old daughter joined in from time to time, voluntarily translating a word or sentence.
Each Visual Latin Lesson is broken down into three parts: in Part A, Dwane discusses the new Grammar concept; in Part B, Dwane writes on the board to further highlight the new concept with sentences; in Part C, Dwane reads from a Latin text, while it scrolls across the screen, and the student repeats after him. We love that each lesson (about 15-25 minutes long each in total) is broken down into small parts, which you can either watch all at once or spread out throughout the week. The pdf files are also made up of three parts: Part A, the explanation; Part B, questions to answer and/or sentences to complete; Part C, a written translation of the text to complete from the video.  Answers are also provided.
We downloaded all the lessons before we started working through them – it took a LONG time to download, so it would probably be better to download from your online account once a week, in preparation for each lesson. We have worked through 6 of the 10 Lessons we received from Latin 1 so far. It's been a terrific review of Latin, that we've been studying for a few years now. However, Visual Latin doesn't require prior knowledge of Latin, on either the teacher's or student's part – it would be a great first course in Latin; just hit "play".
Watch Dwane explain Visual Latin right now:
[youtube]http://www.youtube.com/watch?v=TvDnMWs1qjQ[/youtube]
Try it out for your family – get 6 FREE Visual Latin Lessons! Latin 1 comes in download format for $25.00 or DVD format $30 plus shipping at The Compass Store.  There are two more parts to Latin 1, making 30 lessons in all.  You can purchase a Lesson 1-30 DVD set for $80.00.