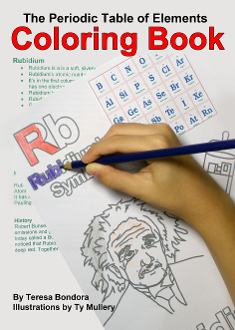 I have been a big fan of Teresa Bondora and How To Teach Science for years, first as she sent out her e-newsletter, and then as she launched her website and e-books.  She is fantastic at demystifying Science and even making it FUN!  I was delighted that she published The Periodic Table of Elements Coloring Book, and recently we received it in exchange for an honest review.
The Periodic Table of Elements Coloring Book doesn't disappoint.  We love using this book in our homeschool!  I sit down with my 8 year old and my 13 year old and we go over the facts of one of the elements (which includes its history).  I usually quiz them a little bit on the element we discussed in our previous lesson as well.  My 8 year old then gets the pleasure of colouring in the pictures (depicting things made of or producing the element) on the opposite page.  We will periodically refer to the table of elements, included at the beginning of the book, to see the "big picture", and we fill in the blank table of elements as we learn each one.
This 157 page book (much like the Gray's Anatomy Coloring Book), is suitable for any age.  Teresa includes just the 71 simple elements of the table in the book (omitting the man-made and complex elements), as it is designed primarily for use for elementary through middle school, but you could certainly use it with high schoolers and add on the study of the more complex elements.  There is an overview included on how to use the book with different age groups as well.
You can download a great sample of The Periodic Table of Elements Coloring Book to see what it's like, for just 99 cents. The Periodic Table of Elements Coloring Book costs $25.56 CDN and is available at Amazon.ca (and Amazon.com).  I highly recommend picking up other resources for teaching chemistry as well for just $5.99 US, which includes activity ideas for each element and how to make your own Periodic Table for your wall.  You can also read Teresa Bondora's article all about this in the current issue of Homeschool Horizons Magazine.  For all sorts of fantastic Science freebies and other resources, be sure to go to the How To Teach Science website.