The TOS Crew had the pleasure of reviewing boardgames from North Star Games last year, and now again this year!  I received Say Anything Family in exchange for an honest review 🙂

Say Anything Family is a brand new game (the family edition of the original Say Anything), designed for 3-6 players, age 8 and up.  We've been enjoying playing together as a family, including my 7 year old daughter and 12 year old son.  This is another of North Star Games' very well constructed, sturdy games.  It is also a quick game, perfect to play as a family, between my hubby's two jobs.  As the box indicates, it takes about 2 minutes to teach how to play the game, and about 20 minutes to play it.
When it's your turn, you read the card.  It may say something like "What city do you most want to visit?"  All the other players write their answers on their individual whiteboards with dry erase markers – what they think would be YOUR most likely answer – and display them on the table.  You secretly choose your favourite answer and indicate it on the "SELECT-O-MATIC 6000 (which looks like a spinner). The other players choose which of the answers they think YOU will choose, by placing tokens on them.  You reveal your answer, and points are awarded to the players whose tokens are on your choice, as well as to the player who wrote the answer you chose.  It's a lot of fun – sometimes everyone seems to know what you'll choose, and sometimes everyone's surprised by your answer.  It generates quite a bit of discussion, sharing, reminiscing, and laughter.  We'll be having fun playing this with our friends at our next Boardgame Day – an entire day when we invite everyone over to do nothing but play boardgames, all day.
Say Anything Family retails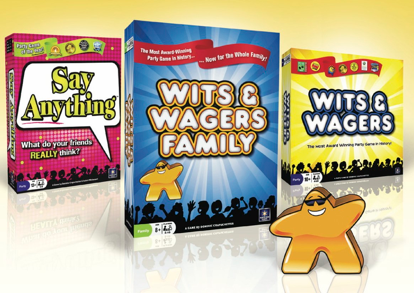 for $19.99 US.  Look for it at your local gaming or retail store.  Visit the North Star Games website to learn more about their collection of games.  And don't forget to visit North Star Games' Facebook page for information on entering their free monthly draw!
Last year, I reviewed Wits 'n Wagers Family HERE, and it ended up on my Top 10 List for the year.  To read what TOS Crewmates' families thought of both games this year, click below:


Love, Luck &
Laughter,