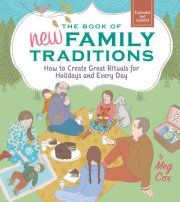 When you start thinking about it, every family has rituals and traditions – from saying grace before a meal, to the bedtime ritual of bath and bedtime story, to special rituals for holidays handed down from generation to generation. The Book of New Family Traditions:  How to Create Great Rituals for Holidays and Every Day was written by mother, step-mother and step-grandmother Meg Cox.  First published in 2003, this is the updated version released just a few months ago.  I was thrilled to be able to receive a copy of the book in exchange for an honest review.
My first impression when I received my package in the mail was "wow, this is a big book"!  It's a large book and it's thick as well.  Its 288 pages are printed on nice, thick paper stock, designed to be thumbed through over and over again.  And it will be!  I love this book and I wish I had it back when my children were babies!  There are great ideas for building traditions and rituals for all ages within your family, from babies to teens.  I will be going back to this book regularly – whenever a special event or holiday comes up or when those winter doldrums set in and I think we need to "mix things up" a little.
Meg shares her own family's as well as other family's rituals for:
Every Day

Family Festivities and Ceremonies

Holidays
One of my favourite ideas, which I plan to get started in our home is "The Daily Family Almanac" – Write each date of the year on 365 cards and write down not only birthdays and anniversaries, but also anything notable that happens on those dates as the years go by, such as special moments in family trips, etc.  I'm going to have my 8 year old daughter help me get this started – she's going to love it!
But there aren't just ideas for rituals, there are also great ideas on how to use technology like smart phones to increase your family fun.  And there are great website suggestions, book suggestions, and even craft ideas.
I highly recommend Meg's newsletter, which I've already been getting for years – you can join her mailing list and find the links to her Facebook page and Twitter HERE.
The Book of New Family Traditions retails for $18.50 Canadian.  You can find it at Amazon or at your local bookseller.  And Meg was generous enough to provide a FREE copy for one of you, my readers (Canadians only please, this is one heavy book to ship)!  Giveaway ends Monday, August 27th at Midnight Atlantic Time.

MANDATORY entry – leave a blog post comment below
EXTRA entry – Like Homeschooling in Nova Scotia on Facebook and leave a blog post comment below letting me know
EXTRA entry – Like The Book of New Family Traditions on Facebook and leave a blog post comment below letting me know
EXTRA entry – Follow @HomeschoolingNS on Twitter and leave a blog post comment below letting me know
EXTRA entry – Follow @MegCox on Twitter and leave a blog post comment below letting me know
EXTRA entry – Tweet about this giveaway on Twitter and leave a blog post comment below letting me know
EXTRA entry – Like this post, below, on Facebook and leave a blog post comment letting me know