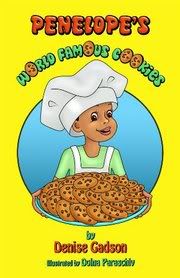 Penelope's World Famous Cookies by Denise Gadson is a delightful little story that I had the pleasure of winning in a draw.  I just had to share!
Penelope is a little girl on summer vacation with nothing to do.  She gets the idea to start selling the cookies she's already so good at making, and "Penelope's World Famous Cookies" are born.  Her family is pretty down-to-earth, and while her elder brother, predictably, is not very supportive, I love how supportive Penelope's mother and father are.  They help her get started, but they let her do it herself.
At the end of the book, there are some questions to get your own child thinking about what their interests are and what they could make into their own business so they can become an kidpreneur!  The suggested age range is 8-12 years old, but my 7 year old daughter loved this book!  She immediately wanted to start a restaurant in our home, LOL.
The author, Denise Gadson says "Kids should learn about starting businesses at an early age. It builds their confidence, broadens their career choices, and teaches independence."  I agree wholeheartedly!  My son, age 12, currently makes his own chain mail creations and sells them in his own e-store.  And he's contemplating selling his own "world famous cookies" to all the hungry dancers when he attends dance class twice weekly 🙂  This is a great book for your child, whether they're thinking of starting up their own little business, or whether you just want to broaden their horizons and to teach them all about being an entrepreneur.
You can purchase Penelope's World Famous Cookies by going to http://www.penelopeandfriends.net – currently it's on sale for $10.95 US (regular $12.95) plus shipping.  Be sure to visit the Penelope's World Famous Cookies Facebook Page and on Twitter: @PenelopeBook