In anticipation of the release of Courageous on DVD January 17th, I was offered three books for review from Graf-Martin.  You can view my review of Courageous Living, already posted, HERE.  It's a great time of year for resolutions!  I received not only The Resolution for Women, but also The Resolution for Men.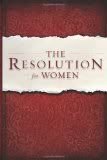 The Resolution for Women is written by popular speaker and author Priscilla Shirer.  The Resolution is not the same one as the men in the movie, Courageous, embrace – this 13-point one is designed especially for women.  The book is set out in three sections:
This Is Who I Am – Surprisingly Satisfied, Purposefully Feminine, Authentically Me, Faithfully His
This Is What I Have – My Best, My Blessing, My Honor, My Heart
This Is What Matters To Me – Fulfilling My Husband, Loving My Children, Living With Grace, Leaving a Godly Legacy
Shirer prefaces the book by stating "I've deliberately written this book in a cadence that I hope will match your reading realities…I'm hoping you'll never pull it out and wonder, Now where was I?" and in my opinion, she succeeded.  It's set up in small "bites" – each sub-section has a 2-5 page sub-section of its own.  While I did have to rush through it in order to get this review done in a timely manner, I did have to pick it up and put it down again, often, and I found it easy to pick right up where I left off.
The one part that didn't really resonate with me at all was, "Authentically Me".  It was kind of an accept-who-you-are, self-esteem type part.  I also didn't like the more than 4 pages of random biblical verses listed (with no comment) at the end of "Faithfully His".
I especially loved the reminder to be quick to listen under This is What I Have: My Blessing – I've been working on that lately.  There is also some great food for thought at the end of each section: questions for you to think through and answer.  Each section also includes one of the 13 resolutions, for you to commit to and sign.  I am looking forward to re-reading the book, slowly, meditating upon it and completing this.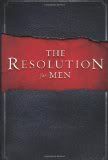 In the movie Courageous (which I'm looking forward to watching on DVD when it's released), "The Resolution" is stated by the men to embrace their responsibilities as leaders of their homes, marriages, and children.  This same "Resolution" is included in the pages of The Resolution for Men.  It was written by Stephen and Alex Kendrick, screenwriters of Courageous and authors of New York Times No. 1 best seller The Love Dare.
My husband and I both agree that the 12-point Resolution itself would be terrific to live by.  Unfortunately, from there, the book leaves much to be desired.  I handed it to my husband to read in hopes that he would be inspired, but that was not the case.  In the first chapter, Why We Need Men of Resolution, seemingly factual statements were made, but were not backed up by serious research.  The entire second chapter, A Lifelong Vision of Fatherhood, consists of a fictional story (somewhat resembling a parable), which is heavy-handed and grossly exaggerated.  Thoroughly disillusioned with the book, my dear husband decided to skip ahead to chapter six, Resolve to Love Your Wife, and was yet again disappointed.  The book told him that it was "hard work" to love your wife – to which he thoroughly disagreed!  It then proceeded to ask him what he perceived to be insulting questions such as: "Do you typically only express kindness and affection to her when you feel like she's earned it?"  And it was right around then that he stopped reading…
The Resolution for Women and The Resolution for Men each retail for $14.99 US.  Books have been provided courtesy of David C Cook and Graf-Martin Communications, Inc.   Available at your favourite bookseller from B&H Publishing Group.
Stay tuned: a Courageous online contest is coming – from January 14th to the 18th!