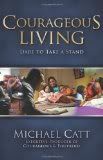 I haven't been able to see the movie Courageous yet.  It wasn't released here on the island, so the nearest theatre it played at was 5 hours away.  I am looking forward to its DVD release on January 17th!  In anticipation of the release, I was offered three books for review.  The first one I read is Courageous Living: Dare to Take A Stand, written by the executive producer of Courageous & Fireproof (I loved that movie!)
Courageous Living is all about living courageously for God.  Examples are given of courageous people from the Bible: Ruth, Elijah, Daniel, etc.  Peppered throughout are stories about both famous people and people Michael Catt knows who have lived courageously.  This book is not just geared toward fathers, but to everyone.
In the chapter "The Courage to Choose and Refuse", Catt explores the story of Moses and his courageous parents.  Something said in this chapter that really resonates with me (and probably other homeschoolers as well) is: "The church can't resurrect what the home puts to death.  Parents today have relegated their responsibilities to schools, churches, and civic organizations, but no one can take your place as a parent."
In the chapter "Looking for Millennials With Courage" (one of my favourite chapters), Catt speaks to young people especially.  He illustrates his points with the life of Daniel.  I love this quote: "As someone once said about the Scriptures, 'Know it in the head, stow it in the heart, show it in the life, sow it in the world.'"  What a fantastic way to describe how Christians should live!  Sadly, far too many Christians don't get past the first part.  And here are two great rules for any young person: "1) When in doubt, don't. 2) Be where you are supposed to be, when you are supposed to be there, doing what you are supposed to be doing.  Those two pretty much cover every life situation."  I'm going to share those two rules with my 12 year old!
Courageous Living is encouraging, inspiring, and easy to read.  A couple of statements did give me pause: once or twice Muslims were mentioned in an unflattering way and there was an odd statement along the lines of, real men don't wear skinny jeans or "man purses".  Thankfully these ideas do NOT pervade the book.  And there is also a little bit of American "flag waving", but that's not surprising in an American book 🙂  The book is also a nice, quality paperback that feels good in the hands (especially in this day and age of so much e-technology).
Book has been provided courtesy of David C Cook and Graf-Martin Communications, Inc.  Available at your favourite bookseller from B&H Publishing Group.  Retail price is $12.99 US.