Clever Dragons is another wonderful, educational website from the makers of Always Icecream.  Always Icecream is for girls only, and Clever Dragons is for boys only.  We really wanted to check out the boys' version after my daughter enjoyed Always Icecream so much, and received a two-month subscription in exchange for an honest review.
Like Always Icecream, Clever Dragons is designed for children in grades K-8.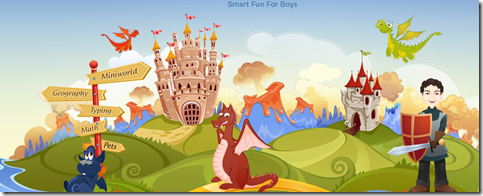 Once your son signs in, he will see 6 choices:
Home Page – This is where they get started: create your own "mini-me" avatar, visit Dragon World to hatch your pets from eggs, and more

Learn & Play – So many subjects to choose from in the form of games and quizzes, including Typing, Geography (including Canadian!), Math, History, Bible (if desired), and more!  Games can be set according to grade level – for my 13 year old, we had it set to Gr. 7-8

My Friends – Turn on the social aspect if you wish, so your child can chat with other boys (many of whom are fellow homeschoolers).  If you have real-world friends in-site, share a special code with each other and your children get to interact in more ways

Mail – In-site email, enabled if the social aspect has been turned on by the parent

CastleWorld – Your child can design his own castle with his own furniture, art work, rooms, etc.  Sell designs in the store for others to buy – and he earns Gold to spend.  He can put his pets in his rooms, add more rooms or buy bigger castles.  He can also visit his neighbourhood to see his friends' castles.

Videos – fun and entertaining videos to watch, arranged in subjects such as Language Arts, Science, Music & Arts, etc.
Hatching the pets (i.e. little dragons) is the most fun for my son (even though he complains that he's too old for it at age 13, he seems to secretly enjoy it LOL).  My daughter absolutely loved the fact that her brother was playing on the boys' version of her beloved Always Icecream!
Your boy can try Clever Dragons Free right now!  There are a variety of pricing options.  99 cents for the first month, then $5.95 US per month.  Or choose $47.40 per year or a lifetime membership for $119.00.  Family memberships also available.