Action Alert is a child internet safety program.  This downloadable software provides 8 internet safety tools.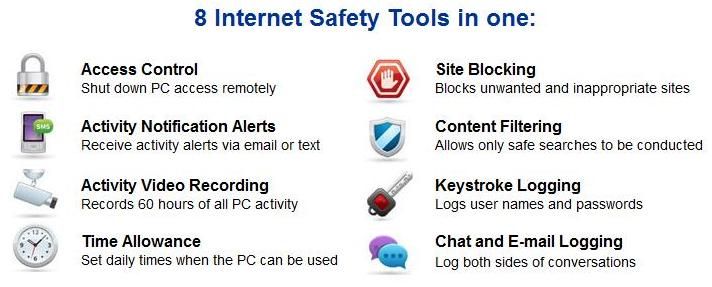 Access Control & Activity Notification:  Receive alerts via email that notify you when a questionable site is being accessed, or swear words are being typed on the computer, then click to disable the computer right then if you wish.

Site Blocking & Content Filtering:  Action Alert is pre-set to block websites known to host damaging spyware or other unwanted content, and you can add-on to this list, or simply choose only which sites ARE allowed. A safe search engine is automatically made your default browser page, which filters to family friendly only search results.

Activity Video Recording, Keystroke Logging & Chat and Email Logging:  Screen shots are recorded every few  seconds, so computer usage can be viewed online and off.

Time Allowance:  You can set time limits for your children or opt for daily times when the computer can be used.
You may choose to download the Free Version of Action Alert, or the Maximum Protection Version for $29.99 US, which is fully customizable, useable with multiple users, and has full social network monitoring.
Downloading and installing Action Alert was simple.  I liked getting alerts straight to my email telling me when someone was swearing on the computer, and also telling me what percentage of my computer hard drive was full.  However, that only lasted 24 hours before my desktop computer, only a few months old, completely crashed.  Luckily I am computer savvy and was able to go into the BIOS and get it to boot from a boot disk, then rolled back the computer to before Action Alert was installed.  It worked again after that, but it was very scary to have our new computer completely immobilized.  I was not willing to give it another try.  I had also installed it on my laptop, but immediately uninstalled it, for fear that an already-on-its-last-legs laptop would crash as well.  If I had actually bought the software, I would have immediately demanded a refund.  Annoyingly, once Action Alert is uninstalled, it actually keeps lurking around on your computer and sending you alerts about hard drive space used.  You either have to reformat, or use a separate uninstaller download to get completely rid of it.

To see what other TOS Crew members thought of Action Alert, click HERE.