Time4Learning is an online learning program for any child, from Preschool to Gr. 8, whether they are homeschooled or traditionally schooled.  In your homeschool, you can use it as a core curriculum or as a supplement.  It offers instruction in math, language arts, social studies, and science (art is also available at an extra cost).  This online program works on either a MAC or PC (high-speed internet is ideal).  My two children received a free subscription to Time4Learning for the past few weeks, in exchange for an honest review 🙂
When your child logs onto Time4Learning, he will find the following 2 options: Lessons or Playground.  When my Gr. 8 Level son clicks on "Lessons", he gets the following options: Honours Algebra, Language Arts, Language Arts Extensions, Math, Science, and Social Studies.  Parents can set up the minimum time their child needs to complete lessons to be able to access the Playground.  For instance, for a young child you can set up Lesson Time for 15 minutes, and then they are allowed 15 minutes of Playground access.  On the Playground, my son likes to access some of the good old arcade games that I used to love playing when I was a kid, such as Pacman, Space Invaders, Asteroids (and sometimes he even lets me play LOL).
When my Gr. 3 Level daughter clicks on "Lessons", she gets the following options: Language, Language Arts Extensions, Math, Science, and Social Studies.
Here is a screen shot of some of the Gr. 3 Language Arts my daughter has been working on: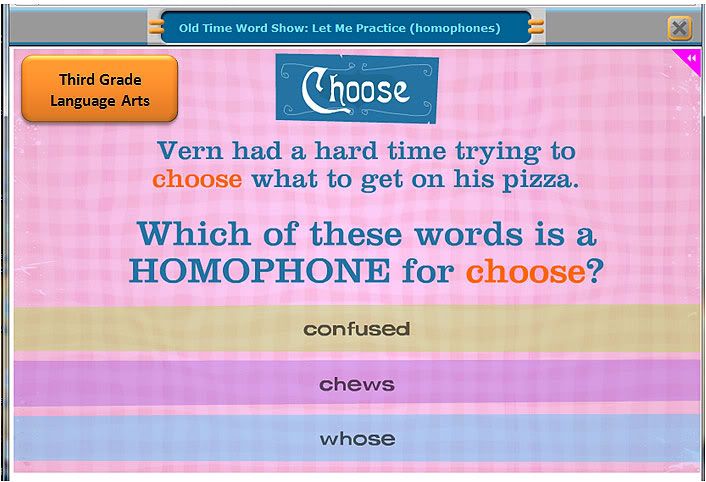 On the Playground, my daughter still loves to access the young children's games that are related to some of her favourite television shows, i.e. Clifford.
On the Parent Account, the parent can access Lesson Plans, preview and plan lessons, access the reading list, and the Science Supply list so all the ingredients are handy for experiments.  A Parent Forum is available where you can ask questions and chat with other parents.  There are discussions about homeschooling, about special needs, about using Time4Learning in the summer, and more.  I think it would be nice if Time4Learning sent regular updates to the parent via email.  However, they do have progress reports you can access on your child's screen, by clicking on the backpack, "My Portfolio".  You can access the reports in pdf format, and print them out for your records.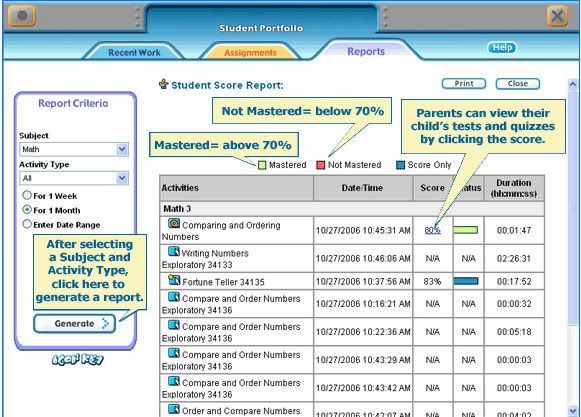 Time4Learning made my Top 10 of the TOS Homeschool Crew 2008-2009 Review Season list.  My children were in Primary and Gr. 4 at the time, and couldn't get enough of Time4Learning.  In fact, we have subscribed to it off and on over the years.  They weren't as "into it" this time around.  I'm not quite certain why, although it could be in part because they're enjoying what they've already been working on so much, and possibly in part because we weren't homeschooling in full swing when we started reviewing Time4Learning this time around.  The bulk of Time4Learning is pretty much the same as the last time we subscribed, but the art option is new.  A note for Canadians and other international families – there is quite a bit of U.S. content in Social Studies – personally this does not bother us, as we like to learn about our neighbours to the south.
Time4Learning costs $19.95 US for the first child, and $14.95 for each additional child per month.  There is also an option to pay up front, per year, for less.  Try a free demo HERE.  Time4Learning has a 100% satisfaction guarantee. "If our learning program does not satisfy your family's needs, you can cancel your membership by email or phone during the first 14 days and we will refund your money directly to the credit or debit card used to pay for your membership. This offer is only valid for new members."