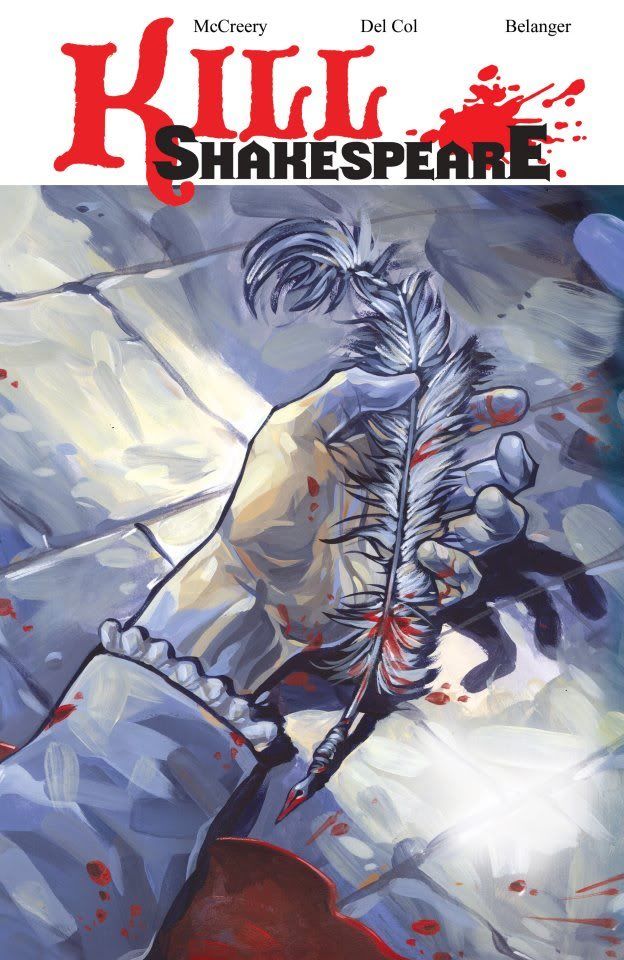 For the past two years at HAL-Con in Halifax, I have heard of "Kill Shakespeare", but I didn't really look into it – to be honest the title put me off, because I'm a real Shakespeare fan.  I had also heard in passing that one of the graphic novels had been presented as a dramatic reading in the area.  Then a professor at the local university mentioned it to me as a good way to get young people interested in Shakespeare.  So I read more about it and contacted the publishers.  I received all 12 issues in two volumes, in exchange for an honest review.
First a true confession – I don't read graphic novels.  It took a little getting used to, and it was slow reading at first as a result.  Once I got the hang of it, about halfway through the first volume, I started enjoying myself.  (If you've never read a graphic novel before either, see my post on Homeschool Mosaics about comics in the homeschool, which will give you a brief primer in how to approach it!)
Kill Shakespeare was created in Canada by Anthony Del Col and Conor McCreery.  It is published by IDW Publishing, which also brings us the comics, "The Transformers", "Doctor Who", "Star Trek", and more.  The greatest Shakespearean characters from all of the plays are thrown together into the same "world".  You will see Hamlet, Juliet, Othello, Lady Macbeth, King Richard, and more, all in the same place.  The heroes are up against the villains.  The villains plot to kill Shakespeare himself, and the heroes seek Shakespeare for help in their struggles.
When the two volumes arrived, I was very impressed – the packaging was ripped in several places, but the books are so sturdy they were  in absolutely pristine condition.  I love physical books, and these were a pleasure to handle and read – so beautifully published.  And the artwork, by Andy Belanger of the Royal Academy of Illustration and Design, is stunning.  As a treat, there are some extra, full-page pieces of artwork included at the back of each volume.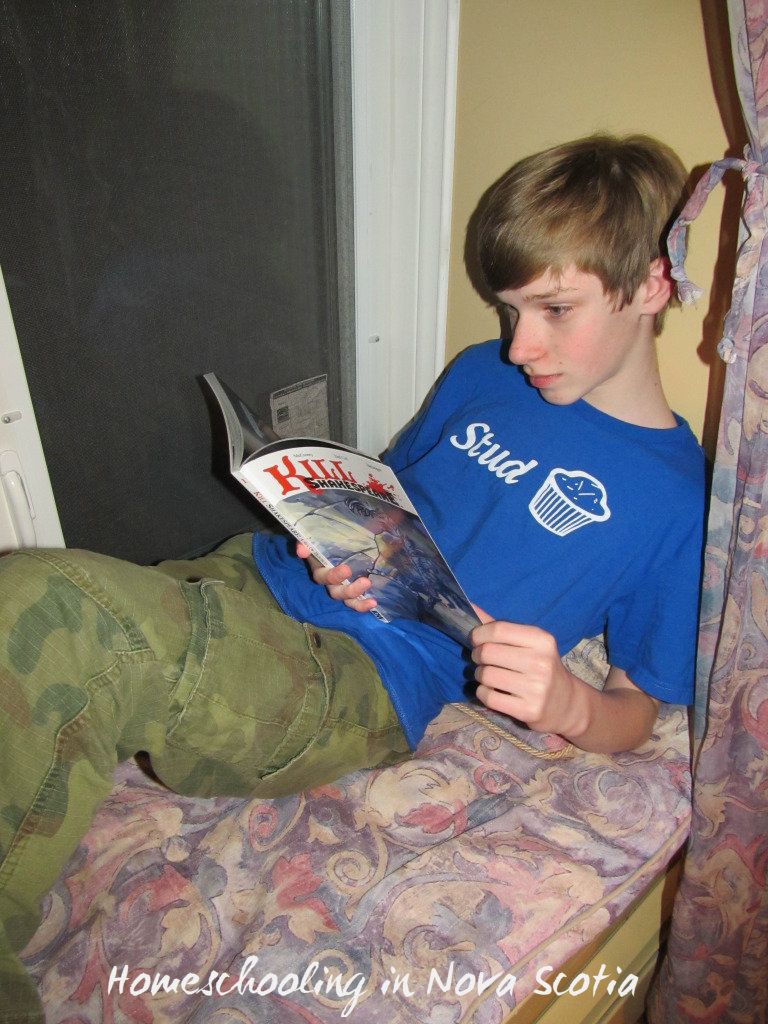 My 13 year old LOVED these graphic novels.  You can read a 13 year old's perspective on Kill Shakespeare here on his blog, Select Kid Reviews.  Just a heads up: expect everything that you would expect in a Shakespearian play in these volumes – bloodshed, death, witches, and more.  In general, I would recommend this for high school age and up.  It's a great way to get your teen interested in Shakespeare! (Or Mom interested in graphic novels)!

Volume 1: A Sea of Troubles (includes issues 1-6) and Volume 2: The Blast of War (includes issues 7-12) and individual issues are available at your local Comic Book store or Book store, or buy each volume on Amazon.ca for $15.12 (where you can also view some free pages).  If you would rather read digital versions of each issue, they are available on iTunes and Cosmixology.  Kill Shakespeare is also available in countries such as the U.S., Britain, and Australia.
And now for the giveaway…one of my lucky readers is going to receive BOTH Volume 1 and Volume 2 of Kill Shakespeare (a $30.24 value)!  Canadians only please (these are VERY heavy books for shipping – sorry to my out-of-country friends)!  Click on the Homeschooling in Nova Scotia Facebook Page to enter!  Ends April 30th at midnight.