We Choose Virtues provides Character Education Curriculum for "Simply Inspiring Character That Lasts"!  Heather McMillan created We Choose Virtues in response to the lack of self control, honesty, and perseverance she saw in the children she came in contact with as a preschool teacher and children's pastor.  I received the Virtue Clues Cards, The Teacher's Handbook, Kids of Virtueville Coloring Book, in exchange for an honest review, as well as free downloads from their website: Family Character Assessment, and Kids Memory Verses, Bible Heroes & Truths.
Characters with catchy names, such as Stop Sign Madeline (I am Self-Controlled), teach children about 12 virtues: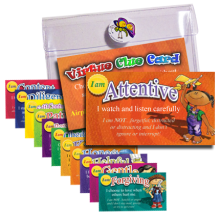 Attentive

Content

Diligent

Forgiving

Gentle

Helpful

Honest

Kind

Obedient

Patient

Perseverant

Self-Controlled.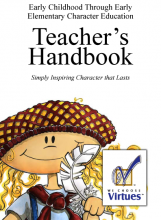 We have been introducing a new Virtue Clue Card and character in our home each week, along with the relevant Kids Memory Verses.  My just-turned-8-year-old daughter has enjoyed colouring each character in the colouring book after its introduction.  I am having her memorize the catchy phrases.  Discussion comes up throughout the week, as I catch her being Attentive or not being Attentive and call her on it, for instance.  She also likes to point out when her big brother, age 12, isn't attending to one of the virtues 🙂  I have been focusing on using We Choose Virtues with my daughter, but my son has also been in on the discussion of each virtue, and I think it's been helpful for him as well, and helpful for my daughter to have the big brother she looks up to, be included.

I believe children as young as three would love We Choose Virtues.  I am looking forward to sharing these with our Children's Church.  The We Choose Virtues products the I received are designed for use with children in early childhood through elementary age, but We Choose Virtues also has products for youth up to age 18.  Products are available individually or in kits for home, homeschool, children's church/youth group, or the classroom.  The Virtue Clue Cards are on sale for just $7.95 $5.99 US each, and they come in a handy dandy, take-everywhere pouch.  The colouring book is a $3.00 US pdf download and includes each of the Virtueville Characters.  There is a Homeschool Kit available which includes flash cards, Kids Virtue poster, three Kids of Virtueville mini-posters, parenting cards, 25 sheet pad of Virtue User Review, 16 sheet pad of Personal Virtue Charts, The Three Rules poster, and Handbook and Coloring Book downloads all for $99.99 AND for January/February only, receive a bonus 100 Days of Virtue Poster and Stickers.  Their posters are also on sale – check out the website for pricing details.  And I have some PROMO CODES for you!  Choose ONE of the following upon checkout…
VIRTUE15 for 15 % off the shopping cart is still available

SHIPFREE for free worldwide shipping
Be sure to visit We Choose Virtues on Facebook.  And check out what our crew members thought about We Choose Virtues in their homeschools HERE: