TruthQuest History provides Christian, literature-based history studies.  We received the TruthQuest History guide in pdf format for Ancient Greece.
Each guide includes (from the website):
Profound, sequential commentary

Vast, specific literature recommendations

Provocative ThinkWrite™ exercises
TruthQuest study guides are suggested for Grades 5-12, but you could incorporate all ages.  The Ancient Greece guide is 100 pages long and consists primarily of lists of books and descriptions, including suggested grade levels ranging from Gr 1-12.  There is a brief, informal introduction at the beginning of every section, along with questions to answer throughout.  I was able to easily transfer our guide to my iPhone so I could look up books on the go.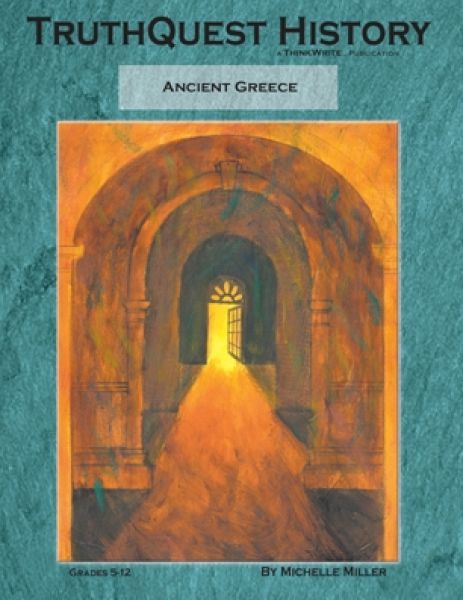 The author writes in a very informal way, seemingly aimed at the student, but then will state information clearly intended for the parent.  This makes reading it aloud (which we enjoy doing in our homeschool) a bit confusing. (As an aside, I find the author's abundant use of exclamation marks distracting).  My 13 year old son found it frustrating that the author assumes you have never even heard of the Greeks, much less know anything about them – the writing seemed "dumbed-down".  Another thing I didn't like, is that some of the books are recommended by the author only because she has seen them in catalogues – hardly a great way to choose a book to recommend.  And some titles are simply repeated under alternate headings.  There is, however, a comprehensive alphabetical list at the end of the book, and many of the recommended titles are ones we own, or books we have read from the library and enjoyed.
You can find samples of the 11 TruthQuest History guides offered here.  The guides run from $24.95-$34.95 US for print copies, and $19.95-$29.95 US for pdf versions.  Also available for purchase at the TruthQuest store are "Binder builders", notebooking pages, and "Map/Timeline/Report Packages".
To see what other families in the TOS Crew thought about TruthQuest History, click HERE.
Disclaimer: This product was received in exchange for an honest review.  All opinions are my own.