Well, I'm FINALLY getting around to a post about our wonderful experience at The Ultimate Field Trip for homeschoolers at Disney back in September!  New Year's is a good time to look back on our year 🙂 While we have been to Disney World before, this was our first trip when we spent more than a day or two there AND our first trip that we stayed onsite! It was absolutely fantastic!
Once we arrived in Florida, we spent one day shopping and one day at The Wizarding World of Harry Potter (you'll see us wearing our lanyards in these photos).  Then the day came to head to Disney World!  We grabbed the Magical Express – a very comfy bus – and were on our way to the resort.
On the Disney Magical Express
We spent two days at each park, and we really enjoyed the Extra Magic Hours, before and after the regular closing time of the parks, that we had access to because we were staying on site.  I'm going to share a little about our days at The Magic Kingdom.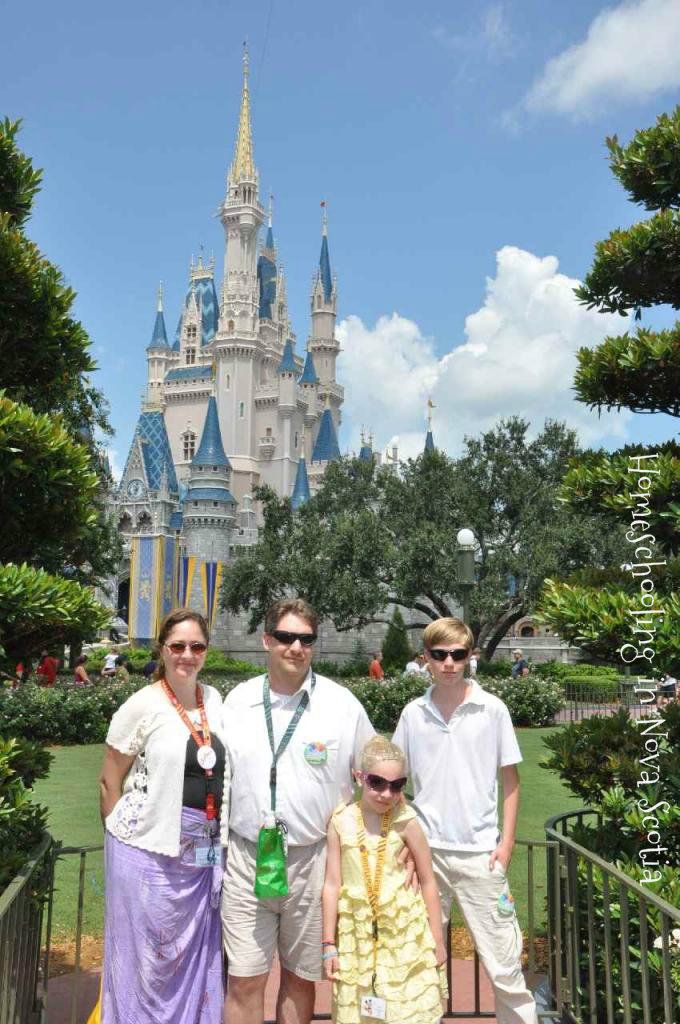 Because we were there in September, the crowds were relatively light.  We used Fast Passes to great effect for the more popular rides, and usually didn't have to wait more than 10-20 minutes for rides in general.  I actually let my family drag me onto every roller coaster even though I don't like them.  My two children's absolute favourite ride was Space Mountain, which they rode over and over again the evening we were there for Extra Magic Hours.  Here they are on the First Day of School for everyone back home: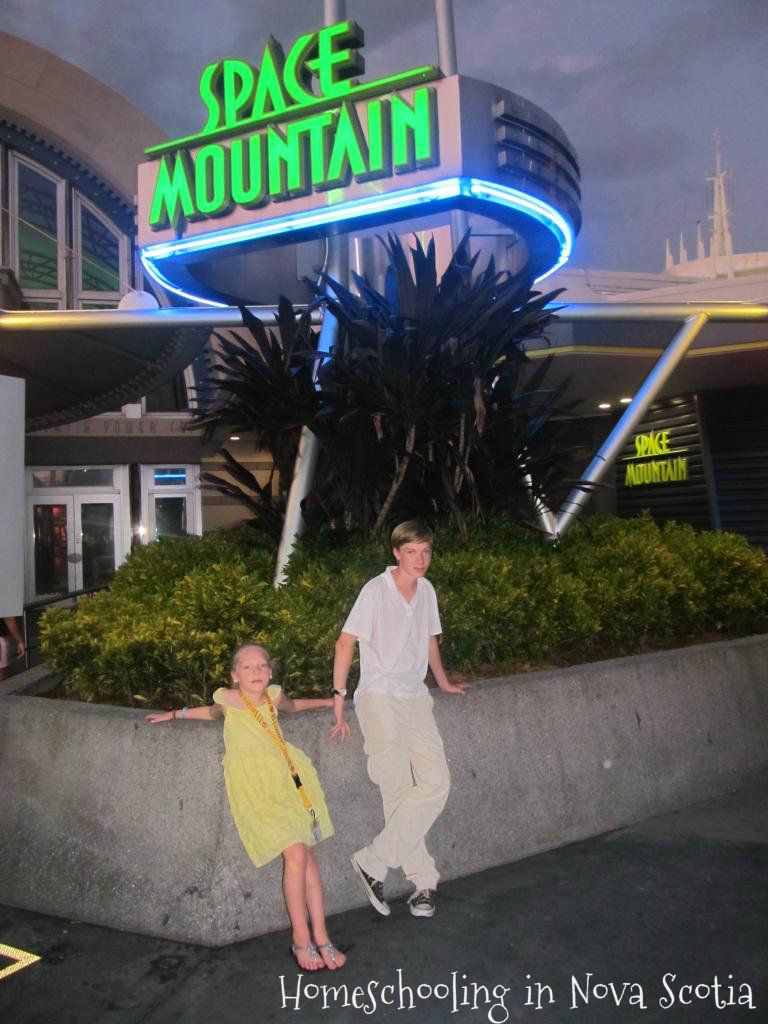 They also got me to ride Splash Mountain, and I actually enjoyed myself on that ride, especially because it was SO HOT outside!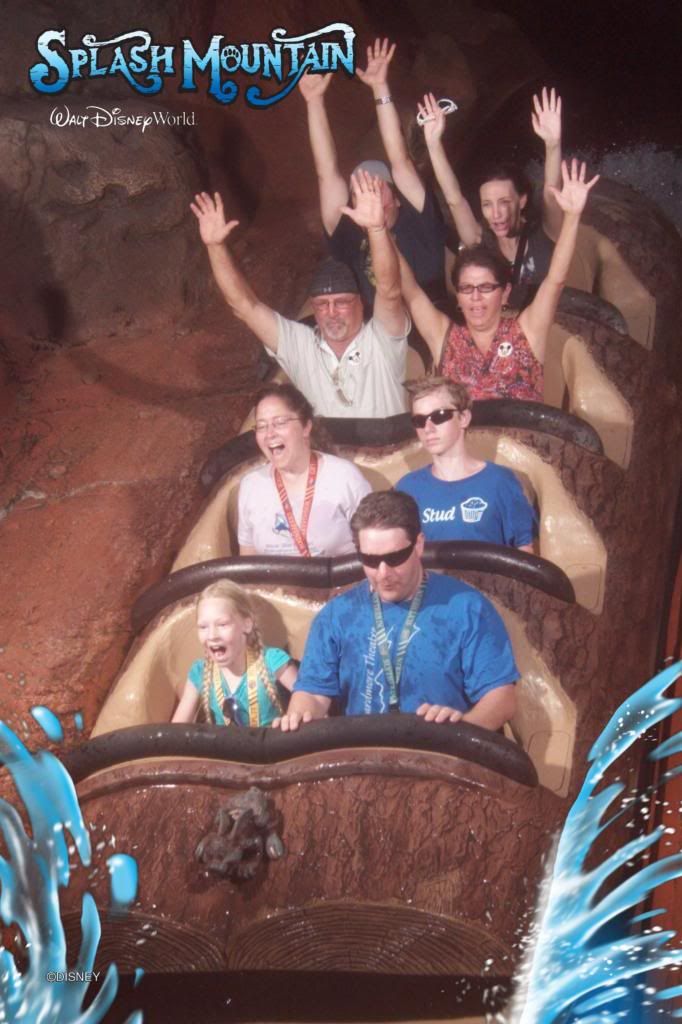 We had fun shopping in a few of the stores, which was also a good way to cool off: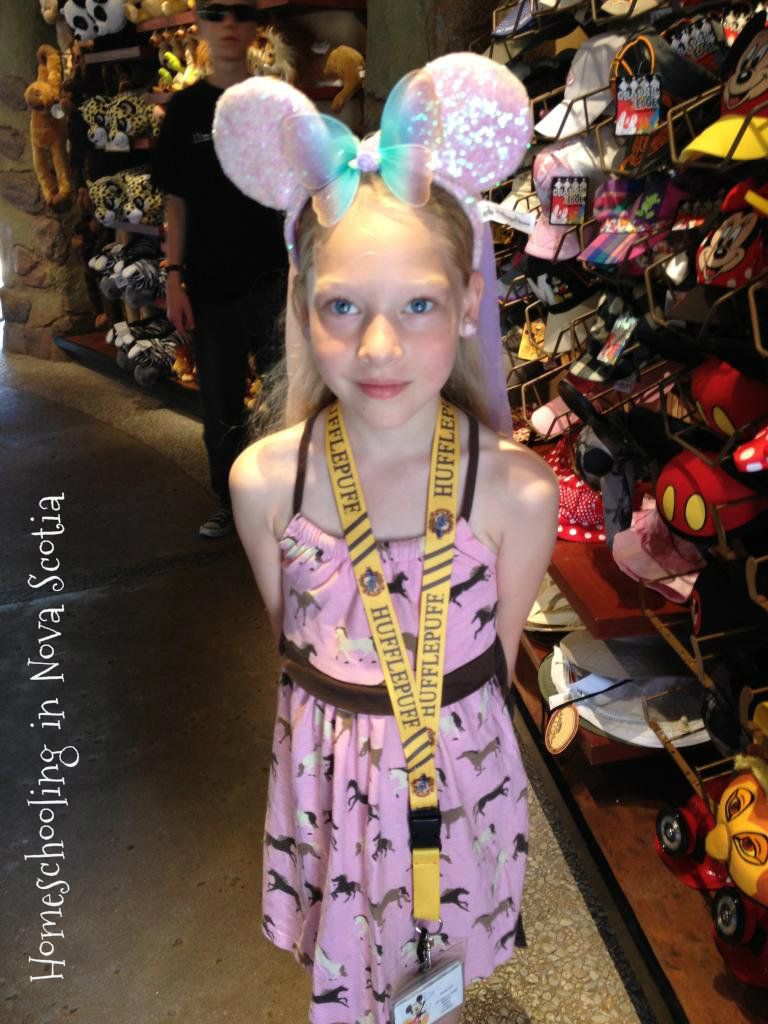 And I HAVE to rave about Disney food! This was the first time we have ever had a dining plan and it was so worth it!  The basic Dining plan was free, but we upgraded to receive one sit-down meal per day and we ate so much more food than the small cost of the plan.  Here we are having a Quick Service meal at Pinocchio Village Haus.  We had the Pepperoni Flatbread pizza, which was pretty good, and the chocolate cake, which was rich, delicious, and covered in Mickey Mouse sprinkles!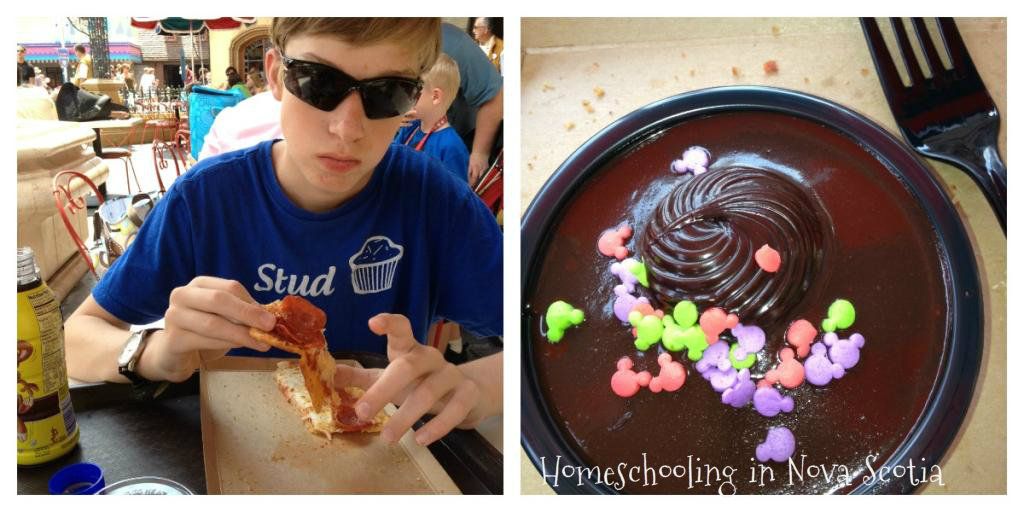 We had a beautiful sit-down meal at Tony's Town Square Restaurant.  It's modeled after the restaurant in Lady and the Tramp: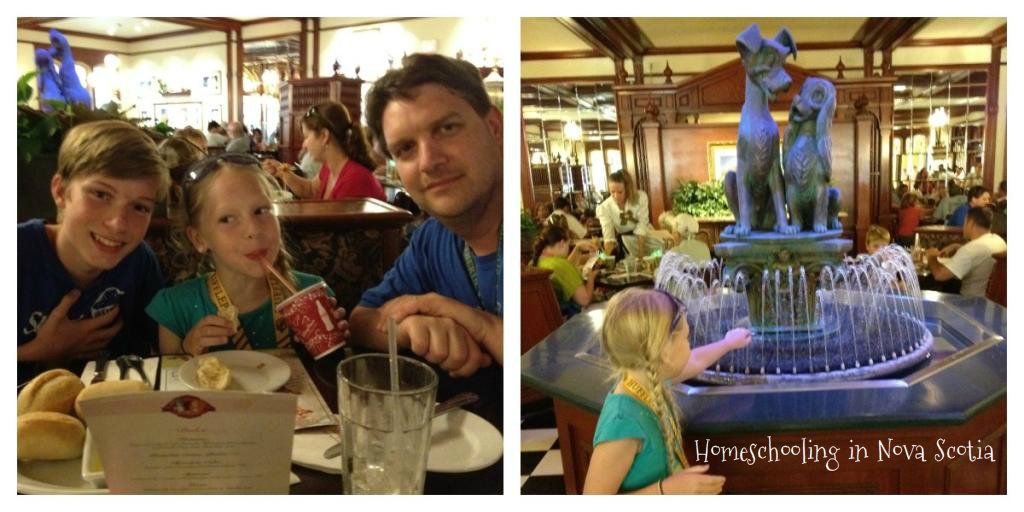 The food was absolutely delicious!  From left-to-right, top-to-bottom, we had:
Delicious bread with olive oil to dip it in

I had the Braised Lamb Shank with Creamy parmesan polenta, chianti demi-glace and seasonal vegetables (which was SO good and I highly recommend!)

The men in the family had the New York Strip Steak with red wine butter, roasted potatoes and seasonal vegetables

My daughter had the Multigrain Grilled Cheese Dippers with Garden Salad off the Children's Menu

For dessert, a couple of us had the Chef's Signature Cheesecake and were thrilled that Lady & the Tramp were etched in caramel sauce on the plate!

The chocolate sundae was huge and of course covered in Mickey Mouse sprinkles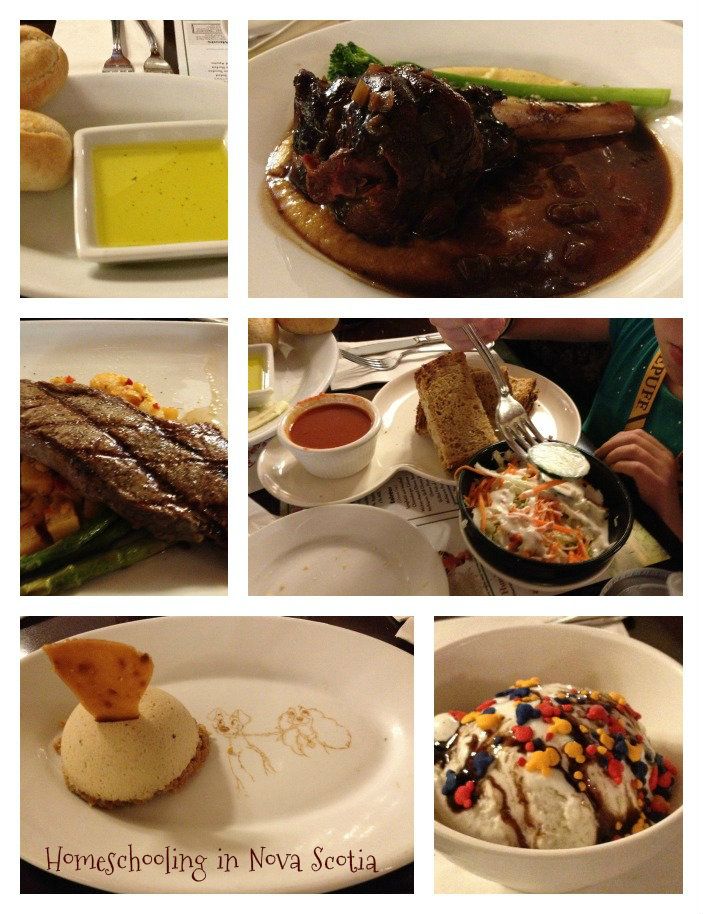 No trip to Disney is complete, when you have a little princess, without a Disney Princess Dinner.  On our second day at the Magic Kingdom, we had a dinner with the princesses at Cinderella's Royal Table at the castle: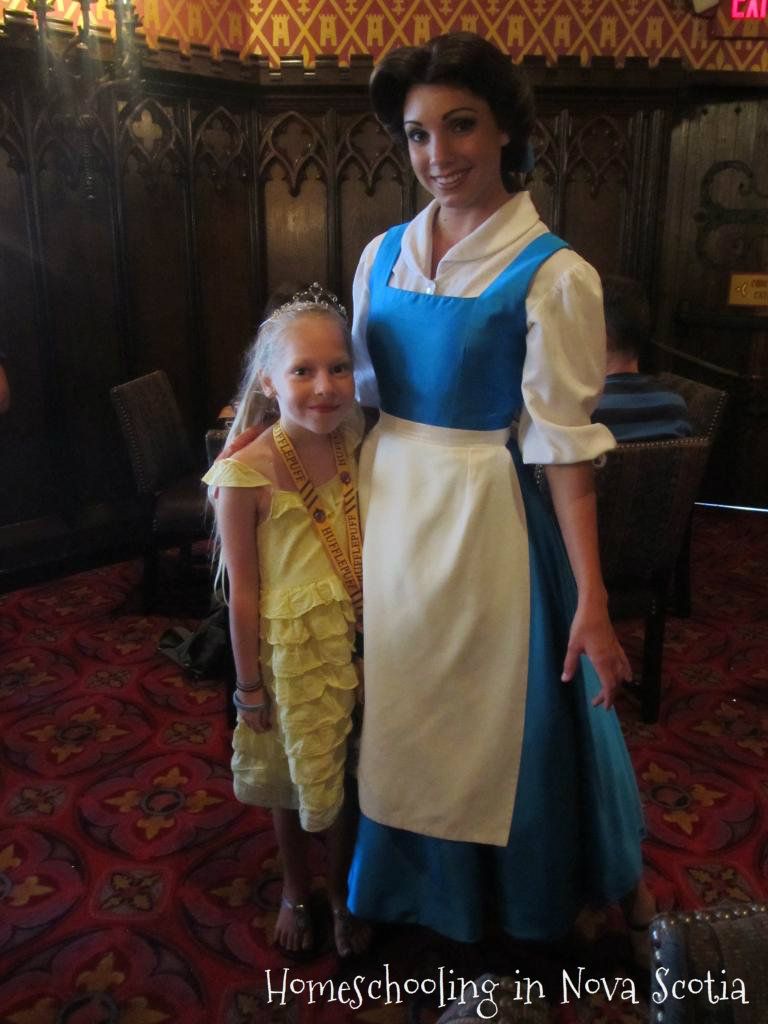 We enjoyed our meal with fancy goblets and our daughter received a wishing wand, and our son a plastic sword, which he promptly gave to our daughter.  Our food that evening consisted of:
A royal tasting of cheese

Sliced roasted beef tenderloin with Duchess Potatoes, asparagus and a Chasseur sauce

Chicken & pasta (which I didn't particularly care for that day)

My daughter had chicken nuggets with mashed potatoes and corn off the Children's Menu

For dessert, she had a Decorate-your-own cupcake which she enjoyed decorating with Mickey ears

The Chef's Dessert Trio was delightful, especially because they were tiny samplings, and I was pretty sure I had gained pounds even with all the walking we had been doing!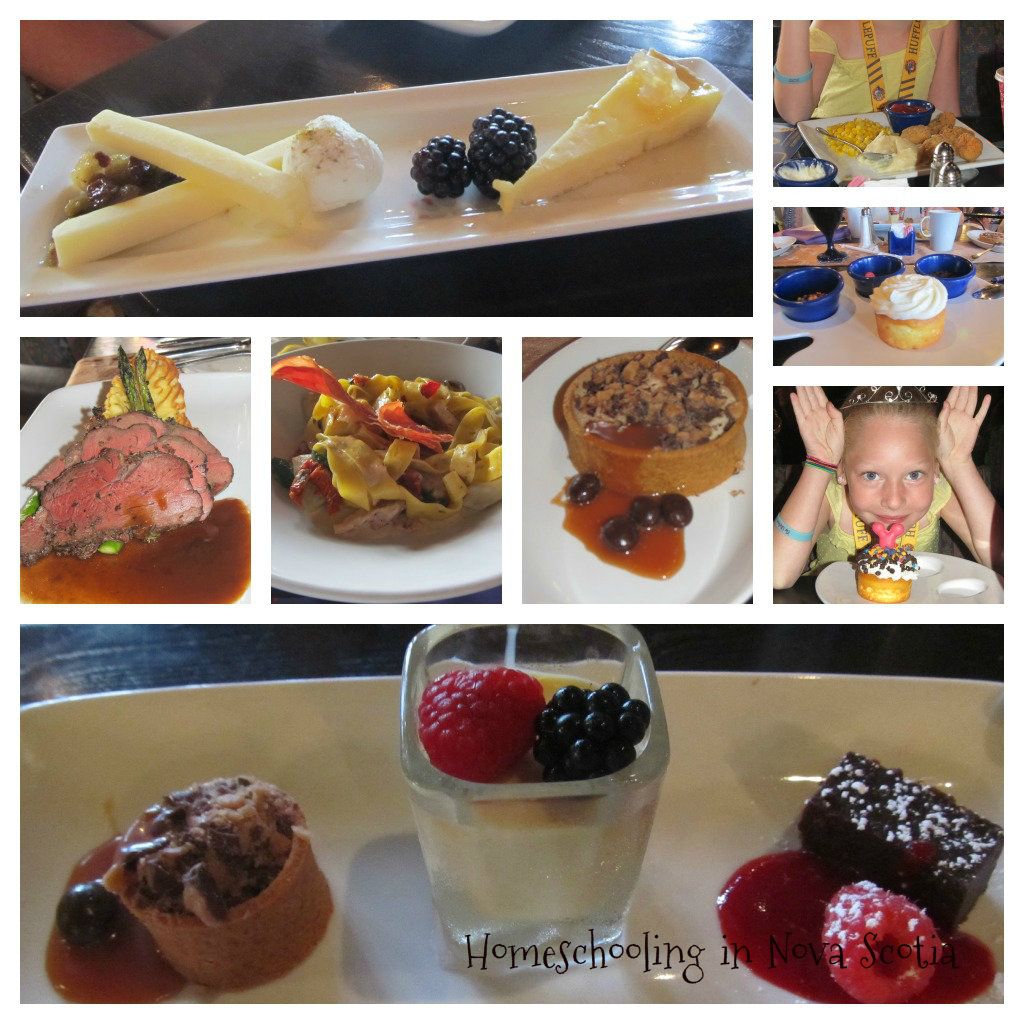 I especially loved when Cinderella's castle was lit up in the evening, especially when it was purple: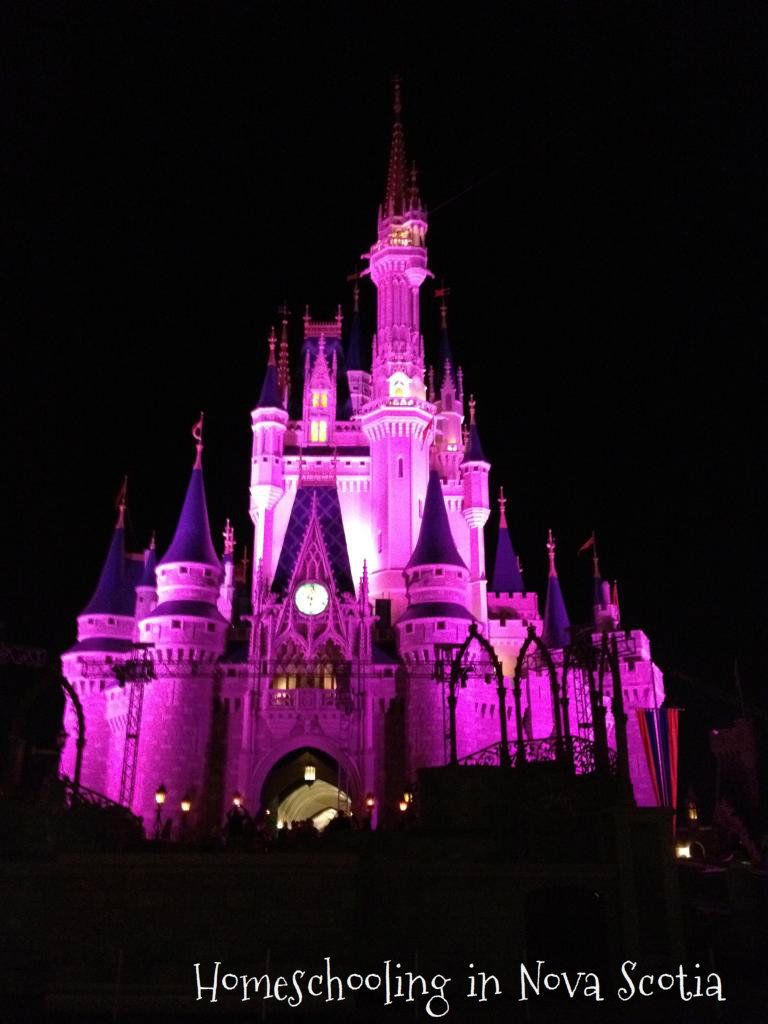 I believe the Magic Kingdom was pretty much the whole family's favourite park (although for me it's a close race with Disney Studios).