Great Commission Languages was formed by The Sherwoods, a homeschooling family in Saskatchewan, in 2004.  We love languages in our homeschool and about two weeks ago, we were happy to receive Level IA of The Easy French/Le Francais Facile! in exchange for an honest review 🙂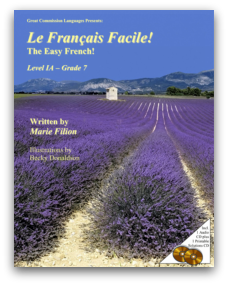 Level IA consists of 18 lessons, suitable for either a half-year or year's study.  Two CD's come with it: a Textbook Solutions CD and an Audio Track CD.   This curriculum is geared for about Gr. 7 level and up.  However, we included my Gr. 3 level daughter in the lessons with my Gr. 8 level son.
The answers on the Textbooks Solutions CD can be printed out for marking ease.  The Audio Track CD includes the dialogues, phonograms, vocabulary, scriptures, and songs from the curriculum, all done by native French speakers, in an International French accent (the easiest accent to understand, and used in various parts of France and Canada). 
As with many language CDs we've used in our homeschool, I find it frustrating that there is not quite enough time between vocabulary words for the student to repeat after the CD, something I think is important for learning correct pronunciation. The optional test booklet includes a test for each Lesson and there is also a test answers book.  The French Phonogram Cards help the student focus on each of the sounds in the French language.

Without having progressed beyond Lesson 2, my first impression is that it would be helpful for students to have been exposed to some French or had some French instruction before beginning with Level IA.  There is a LOT of vocabulary and various grammar concepts thrown at the student right from the get-go in the first lesson.  Luckily, my children have had some previous Latin and French instruction 🙂 
My daughter has very much enjoyed colouring the pictures, as well as copying the scriptures on the scroll pages and decorating them.  My son can easily work through this on his own, especially with the handy chart included in each lesson breaking down what to cover each day, Monday to Friday.  However, I do enjoy brushing up on my French with my children.  I like the dialogue stories, intermixed with French and English which are included in each lesson, which immerses the student in the French language.  I also like the inclusion of French cultural information – there are facts about the French culture here in Quebec, as well as in France.  And at the back of the book are recipes – another great way to immerse your homeschool in the French culture (and something we love to do)! 
Every other lesson, there is a new Bible memory verse included.  Great Commission Languages believes that French is THE language to learn for those who want to do mission trips, as many of the areas who need to be reached out to and extended a helping hand have a French-speaking population.  This resonates with our family in particular, as we plan to go on a mission trip in the not too distant future.  However, you can easily omit the scriptures if you wish.
My son and daughter don't seem to be having any difficulty with The Easy French.  We plan to keep using this very complete French curriculum.  Since we haven't progressed very far yet, having had the curriculum for such a short time due to a shipping snafu, I will be sharing in future on my blog how my children have progressed, and whether we decide to move on to Level IB!
Sign up for the Great Commission Languages e-newsletter for some great resources, tips, bonus material, and giveaways on their website.  For sample lessons and a video overview, click HERE.  There is even a The Easy French Yahoo Group for extra support!  Level 1A is $84.95.  The Test 1A booklet and Test 1A answers booklet are an additional $10.00 each.  The Phonogram cards (usable for all the Level I and II books) are also $10.00 each.  If you find this a bit pricey, you can also buy the complete Level I in a slightly different format, for $139.95 (a savings of about $30.00).   All prices are in Canadian dollars.
Great Commission Languages also has a Junior level available for younger students (about Gr. 3-4 level and up) as well as Level II books, and a Spanish curriculum (The Easy Spanish).