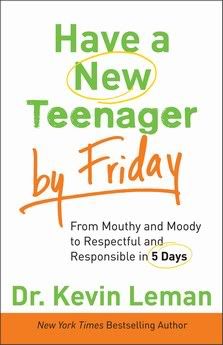 Do you know this person?
He eats cereal out of a large mixing bowl.
Her bedroom looks like a garbage dump . . . on a good day.
If there were an Academy Award for eye-rolling, he'd win.
She changes outfits three times before breakfast.
Congratulations! You have a teenager in your home.
Although my son's only 12, he's pretty much already there!  I received Have a New Teenager by Friday in exchange for an honest review 🙂
Dr. Kevin Leman, the author, writes in a very conversational tone.  Chapters are divided into Monday, Tuesday, Wednesday, Thursday, and Friday and are easy to read in small chunks of time – this is a good book to keep in the bathroom.  I enjoyed reading and I think it's a good book to read before your child even gets to the teenage years, as Dr. Leman often mentions how important it is to lay a good foundation when your child is young.  I found that I was pretty much already parenting using the tools and techniques Dr. Leman mentions, although I did disagree with him a few times.  I did also find that the book helped me get in a good frame of mind for parenting and give me some perspective (which is why I like reading at least one book on parenting a year).  It's always good to be reminded that not everything has to be a battle, and that you can "Let the reality do the work so you don't have to."  I like Dr. Leman's use of humour in parenting – it can be a great way to get a point through to your teen.
Once you've read through Dr. Leman's tips on parenting a teenager, you can keep it handy to peruse the glossary at the back, "Ask Dr. Leman".  This includes advice on 75 parenting topics, including Sibling Rivalry, Lying, Know-it-Alls, and Responsibility.
Read an excerpt of Have a New Teenager by Friday
HERE
.  Suggested retail price is $17.99 US.
Book has been provided courtesy of Baker Publishing Group and Graf-Martin Communications, Inc.  Available at your favourite bookseller from Revell, a division of Baker Publishing Group.