The Reading Eggs website offers three online reading programs for children age 3-13.  We received a free trial of Reading Eggs and Reading Eggspress in exchange for an honest review.
Reading Eggs is designed for children age 3-7.  My 8 year old daughter played around with it a little while, and enjoyed it, even though she's reading novels at this time.  Setup was quite simple.  Once we were set up, she was asked to complete a 40 question Reading Eggs Reading Test to evaluate her reading skills:

I believe 40 questions in one sitting is a bit long for a child in the target age group. Even though my daughter answered all the questions correctly, it put her in a very easy reading level or what they call "maps" (there are 120 lessons, split into 12 maps). I believe if your child succeeds in doing this, you should try the Reading Eggspress program instead (it's just a click away). We continued to play with it just to see what it was like. Here's a screenshot in which the child hears the sentence and puts the words in the correct order: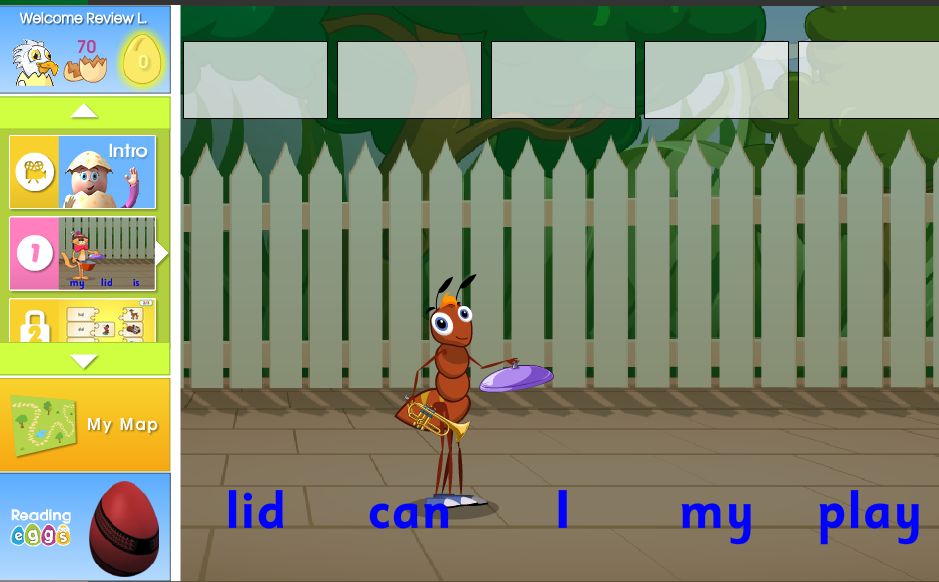 My daughter very much enjoyed the animated critters, including this ant above. I personally found that there was WAY too much repetition. For instance, with this activity, they ask you to put the words in order over and over again. However, if your child likes or needs repetition, this shouldn't be a problem. Reading Eggs combines phonics AND sight words. Since I believe phonics is very important, I am glad it is covered. Overall, this looks like a solid, fun reading program.
After playing around with Reading Eggs, my daughter moved on to Reading Eggspress, for ages 7-13. The first task was a Reading Eggspress Reading Comprehension Test: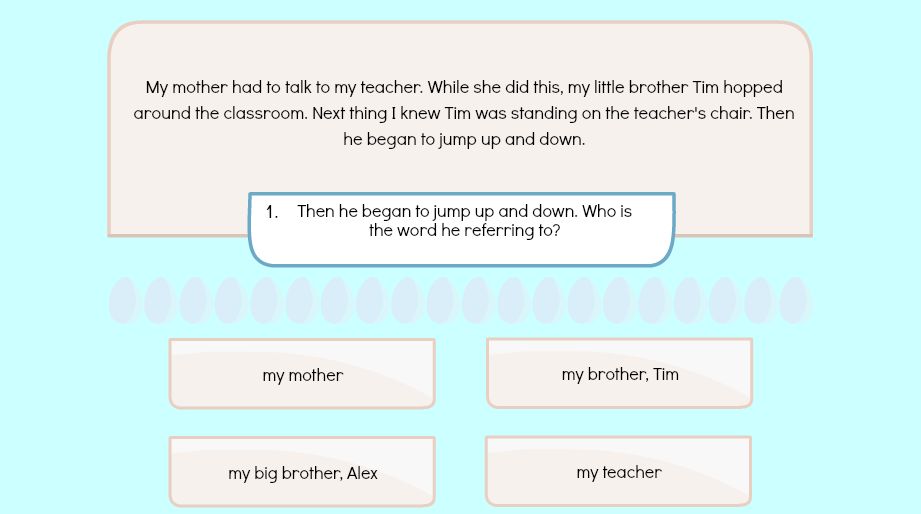 After the comprehension test, when the child logs in, the first screen the child sees is of Floating Island here:

My daughter loves Floating Island! Here the child has five choices:
Comprehension Gym – Where your child is asked comprehension questions based on book covers that are chosen, the who/what/where/when of short stories, and parts of speech

Stadium – asks spelling questions, etc. and your child can compete against the computer or other players

Library – choose a book to read – fiction or non-fiction

Apartment – (this is my daughter's favourite) here you can choose to play "Quote Quest", or enter the child's apartment, where your child can dress her character, play with trading cards, or view her trophies

Mall – your child can buy trading cards, buy clothes for her character, buy pets, and play Brain Games
Reading Eggspress Gym:

My daughter can't get enough of Reading Eggspress. She can sit at the computer and play for HOURS. While I'm not a big fan of comprehension questions, they do seem to be relevant to the content of each story, instead of silly questions designed only to make sure the child was paying attention.
Fast Phonics is the third program Reading Eggs offers. It's for ages 5 to 10.
Reading Eggs also offers optional companion books and writing workbooks to complement the online programs.  You can try Reading Eggs FREE for 30 days with this link!  Each subscription to Reading Eggs gains you access to both programs.  Reading Eggs/Eggspress costs $9.99 US monthly, or $69.99 per year.
Love, Luck &
Laughter,
Kimberly
Please note: This article has been updated and revamped for accuracy December, 2020. This post contains affiliate links. If you click through and buy, I make a few bucks to keep up Homeschooling in Nova Scotia. Thanks for your support!