Canadian Dolls for Canadian Girls: Maplelea Friends Review
My 8 year old daughter anxiously awaited the Maplelea Friends doll who looked just like her to arrive in the mail. While she was waiting, she even knit her doll-to-be a cute little doll-sized scarf. The day finally arrived (quite quickly, but a long wait for an anxious 8 year old)!

As soon as my daughter unwrapped her Maplelea Friends doll (KMF5 – no longer available), she gave her a name, Aveena, and gave the doll the present she had knit.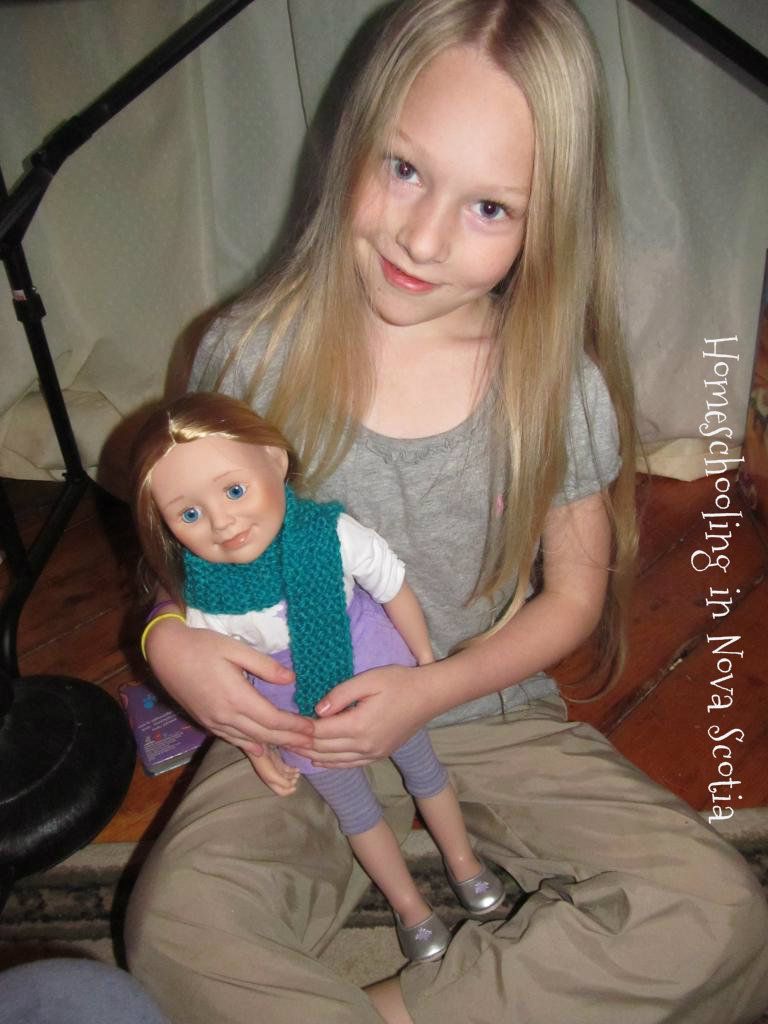 My daughter was equally delighted with the beautiful keepsake giftbox and the cute journal included. Aveena even likes to write in the journal:


The creators of Maplelea Girls, Avonlea Traditions, started in 1988, developing products based on Anne of Green Gables (today you can find a fabulous Anne of Green Gables dress-up outfit for Maplelea dolls in the catalogue). In 2003, Avonlea Traditions launched the Maplelea doll line. Three years later they sold off the Anne of Green Gables line and focused solely on Maplelea Girls dolls.
Now girls can choose one of 12 Maplelea Friends and use their imagination to create a name, background, and wardrobe for their new friend. Each doll comes with a cute, purple Journal with 64 pages to fill out on the doll's likes, dislikes, family, stories, and more. Half of the journal consists of prompts and fill-in-the-blanks to create the doll's story and half consists of blank pages for your child's story. What a great creative writing assignment for homeschoolers! I didn't even have to encourage my daughter to get writing – she started writing directly after giving her doll the scarf.
Your child can choose a doll that looks just like her (like my daughter did) or simply any doll that she likes. There are a wide variety of hair styles & colours, eye colours, and skin tones to choose from. Each Maplelea Friend comes dressed in a well-made purple outfit which consists of a t-shirt, skirt, striped footless tights and silver shoes decorated with a maple leaf (of course)! Maplelea dolls are 46cm (18 inches) tall, with a soft body and poseable arms and legs. They do stand on their own, and their eyes open and close. The hair is absolutely gorgeous and looks so much like real hair – I think mostly because it's made up of a blend of different colours. It is a lot of fun to style – my daughter spends a lot of time thinking up and trying out new styles (and has become better at styling her own hair as a result).
We go everywhere with Aveena. She even went out for a break to eat with us during a recent trip to Halifax:

My daughter already loves her doll so much, that she spent some of the money she had saved up on the Maplelea hairbrush…
and a beautiful outfit, Belle of the Ball (Aveena looks great in blue):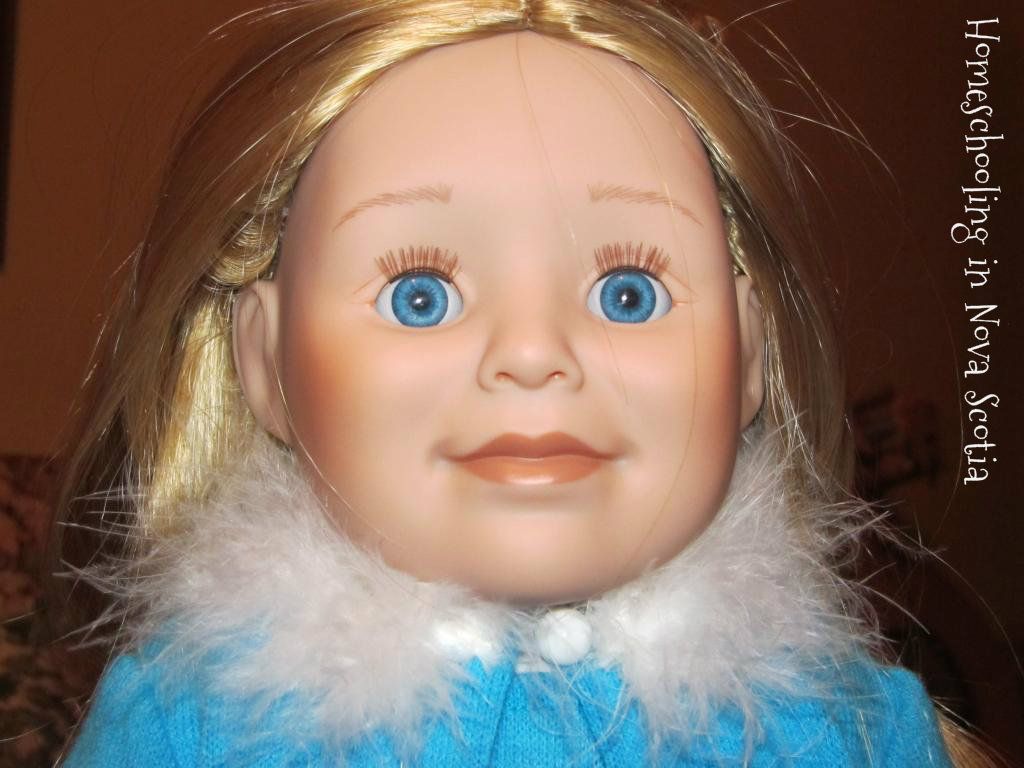 The brush and outfit each came with additional journal pages for the journal – the brush included special pages on caring for the doll and her hair. Aveena likes to brush her own hair as well:

My daughter has always loved reading the Maplelea catalogue. She pointed out the Maplelea Spa to me one day – she is very impressed that if her doll gets damaged, Maplelea has a service to take care of her. The doll is sent to Maplelea and, for about half the price of the doll, is completely replaced and sent back in full spa gear.
We just received the brand new Maplelea catalogue in the mail today and my daughter spent time pouring over it, looking over the outfits and reading all the stories on the different dolls from across Canada. We made a gift registry for her on Maplelea.com to share with our family so they can choose to shop there for Christmas gifts.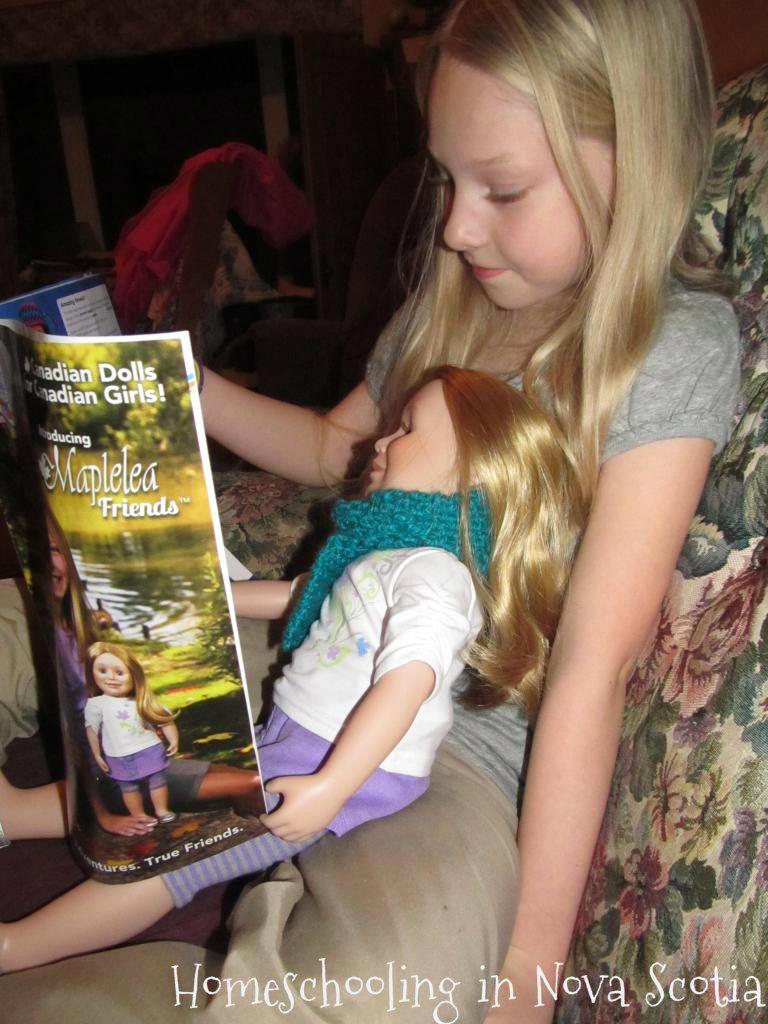 Maplelea Girls dolls cost $99.00 each. Shipping is just a flat $9.00 across Canada (regardless of order). In addition to the Maplelea Friends, there are 6 regional dolls who span Nova Scotia to Nunavut, with names and stories pre-made that can be added to in the accompanying journal. You will not find Maplelea Girls in retail shops – Maplelea says it keeps its costs down by selling directly to the consumer and wants to reach Canadian girls who may not live near retail outlets that sell high quality specialty toys. Orders can be placed online at www.maplelea.com or by phone at 1-800-668-4339, 24 hours/7 days a week.
I think every little girl would love one of these imaginative, well-crafted dolls. And I have very good news for one lucky little girl in Canada! Maplelea is giving away ONE Maplelea Friend (worth $99.99) of your choice! Giveaway is open to Canadians only and ends at midnight Atlantic Time on Wednesday, December 12, 2012:
*This giveaway has ended*
MANDATORY entry – visit the Maplelea Girls Website and leave a blog post comment below letting me know your favourite Maplelea friend or simply something you learned about Maplelea

EXTRA entry – Like Homeschooling in Nova Scotia on Facebook and leave a blog post comment below letting me know
EXTRA entry – Like Maplelea Girls on Facebook and leave a blog post comment below letting me know
EXTRA entry – Follow @HomeschoolingNS on Twitter and leave a blog post comment below letting me know
EXTRA entry – Follow @MapleleaGirls on Twitter and leave a blog post comment below letting me know
EXTRA entry – Tweet about this giveaway on Twitter and leave a blog post comment below letting me know
EXTRA entry – Like this post, below, on Facebook and leave a blog post comment letting me know