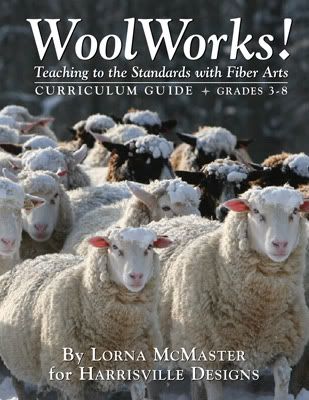 For Fibre Arts Monday this week I thought it would be fitting to share a Fibre Arts curriculum. I received this curriculum in exchange for an honest review 🙂
Harrisville Designs provides fleeces, yarns, looms, educational toys and more for those who love fibre and the fibre arts. They have also put together WoolWorks! a curriculum designed for Grades 3-8. Created for use in a classroom, this curriculum is easily used in your homeschool or local co-op. It comes in a binder, which I find very practical because I can easily add any extra resources or patterns I find to supplement the curriculum (for instance, instructions for making a spindle with a CD for the spinning lesson). This curriculum contains 12 Lessons:
Lesson 1: A Brief History of the Sheep Around the World
Lesson 2: The Science of Wool
Lesson 3: Humans Discover Textiles: Felting
Lesson 4: Simple Machines: Spinning
Lesson 5: Nature's Rainbow: Natural Dyeing Dyeing Nature's Rainbow Lesson 6: Braiding
Lesson 7: Introduction to Weaving
Lesson 8: Weaving Around the World
Lesson 9: Introduction to Looms: The Rigid Heddle
Lesson 10: Tapestry Weaving
Lesson 11: From Grandma's Knee: Learning to Knit
Lesson 12: Domino Knitting
There are some very easy, quick, and fun things to felt with your children's little hands and some fibre in lesson three 🙂 Each lesson is full of ideas, projects, and photographs.
One of our favourite parts of this curriculum is the map of sheep around the world. We were already knitting and spinning in our homeschool and doing some simple weaving on a frame loom before we started using this curriculum, but since then we are also weaving on a rigid heddle loom, as I have shared in some previous Fibre Monday posts. After being inspired by the felting lesson, we've also experimented with needle-felting 🙂 I used this curriculum with my 7 year old and 12 year old, and also for some ideas for an interactive fibre demonstration with children at our local library. Although recommended for Grades 3-8, I believe it would be great for Primary (Kindergarten) through Gr. 8, and even perhaps beyond.
WoolWorks! costs only $39.95 US plus shipping (9.50 in the US and 11.95 in Canada). Or you can pick u individual lessons for 7.50US. Check out some of the great crafting kits and tools Harrisville Designs has on their website while you're checking out WoolWorks!