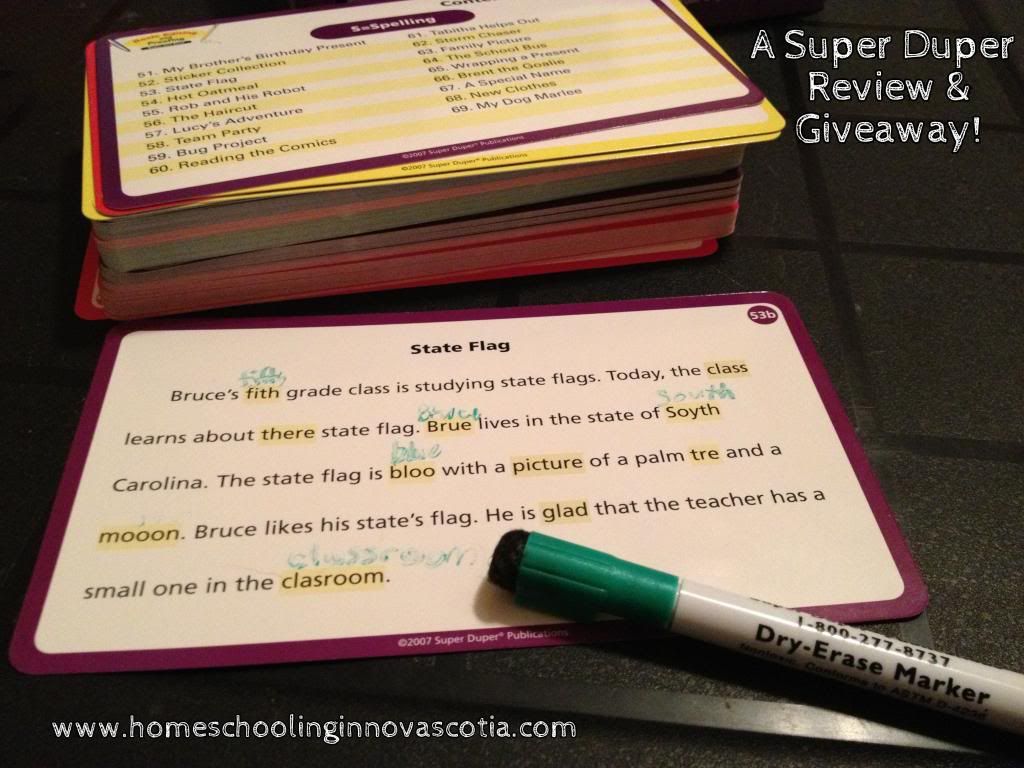 Super Duper® Publications offers fantastic learning tools, including ones specifically designed for children with learning disabilities. Whether you're a parent, a teacher, or a homeschooler, you'll find something for your child, whether they have a learning disability or not. These learning tools are disguised as fun and games and that's my favourite way of homeschooling!  Previously only available to educators and child therapists, Super Duper's eCatalog is now open to you, to browse everything from software to games and even iPhone Apps.
I chose to review the Basic Proofing and Editing Super Fun Deck, designed for Gr 3-8, for my 9 year old daughter, in exchange for an honest review. She was absolutely thrilled when we received the package in the mail. She gleefully began using it right then and there – I had trouble getting her to put it away to eat supper!
Basic Proofing and Editing Super Fun Deck
consists of 100 double-sided 4″x7″ cards, four mini write-on-wipe-off markers (complete with eraser on each cap), game & lesson ideas, and a secret decoder, all in a handy tin. So how does this super fun deck work? The card deck is divided into five sections – four using the COPS mnemonic (C=Capitalization, O=Overall Appearance, P=Punctuation, and S=Spelling) and a fifth section with a mix of the four error types.  Side A has three sentences: Sentence 1 has one error; Sentence 2 has two errors; and Sentence 3 has three or more errors.  Side B has a paragraph with five or more errors. Each card has a number of possible "errors" highlighted in yellow. The student uses a dry erase marker to circle or correct the errors (we chose to correct them), and then uses the Secret Decoder to check the answers. The words that needed editing will turn red under the Secret Decoder light. What a fun way to improve students' proofing and editing skills! My daughter is downright eager to use the Secret Decoder! Her favourite cards are the Spelling cards.
I LOVE that everything comes contained in a handy tin – nice and neat and easy to stow – no mess! And everything's reusable – just wipe it off with a tissue and it's ready to be used over again. Unfortunately on the second day, the decoder no longer worked. Since there were no instructions for it, I hadn't realized it could be locked in the off position and I suspect it ended up running constantly in the box and ran out of batteries. I found the instructions afterward online here, complete with instructions and even a video for replacing the battery, hooray! (I hope in future they include a note or some instructions with shipment though.)
You can watch a video all about the Super Fun Deck on the Super Duper Youtube Channel:

In addition to Youtube, you can check out Super Duper Publications on Pinterest, Facebook, and Twitter. And you may especially want to also check out Super Duper's award winning game, Jeepers Peepers, which has received EIGHT awards, including the Good Housekeeping Best Toy Award!
The Super Duper Basic Proofing & Editing Super Fun Deck is $29.95 US. Super Duper Publications offers FREE shipping to the US AND Canada with a $20 minimum order.  AND save 15% off through March 31st on any purchase with Promo Code: KSBLOG149
I have great news! One of my readers is going to win a $50 US certificate to spend at the Super Duper Publications store! Sign in below with either Facebook or your email address and then simply follow the Punchtab directions to enter. This is open to Canada and the US until March 12th at 11pm Atlantic Time (10pm ET). Good luck!