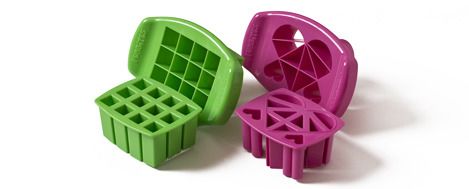 Bobbie Rhoads is the mother of two. She created FunBites when her second child was born a picky eater and Bobbie found herself laboriously cutting everything into small shapes so she would eat.  Now families everywhere can quickly and easily cut their children's food into fun squares and hearts.  I received a FunBites "Luv It!" in exchange for an honest review.
The LuvIt! makes a big heart from geometric shapes along with two little hearts, and it's BPA free.  I tested it out with my two "big kids" and the toddlers that I care for from time to time.  Here's how it works (with a yummy pancake):
Step 1: Place funbites® cutter on top of food.  Remove popper top and set to the side.
Step 2: Grab cutter handles on both sides, press down firmly and rock 5-6 times to cut through the food (the cutters really aren't sharp, it's the rocking back and forth that cuts through the food).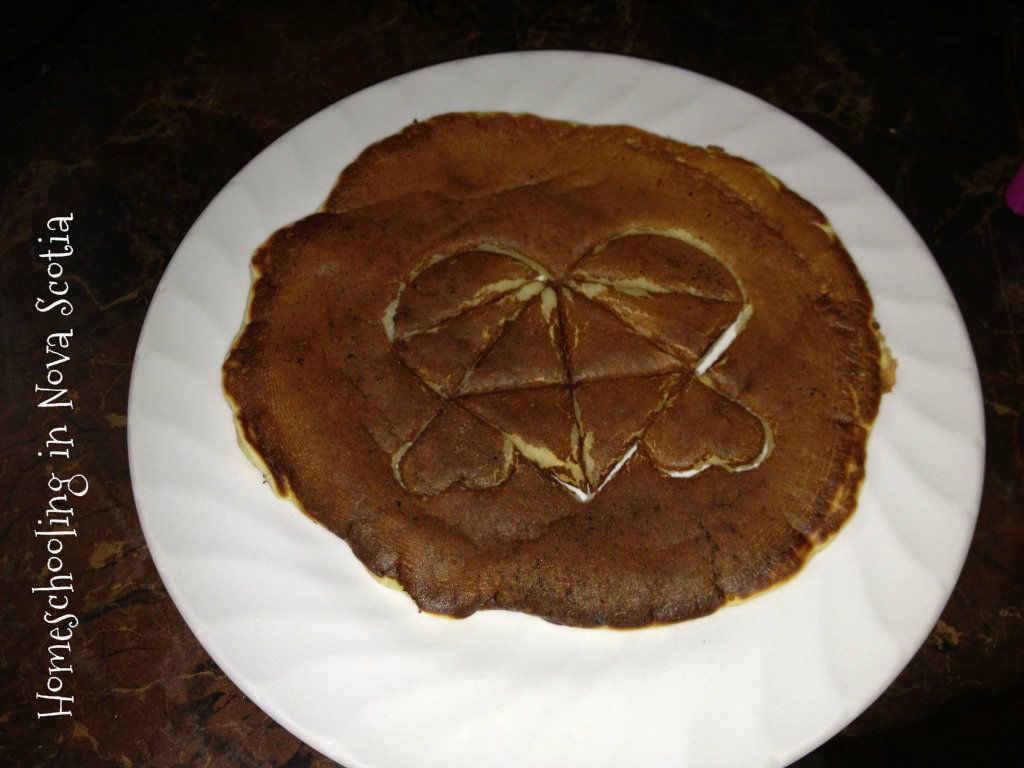 Step 3: Lift the cutter up, insert popper top and pop out the bite-sized pieces! (And Mom can munch on the leftovers).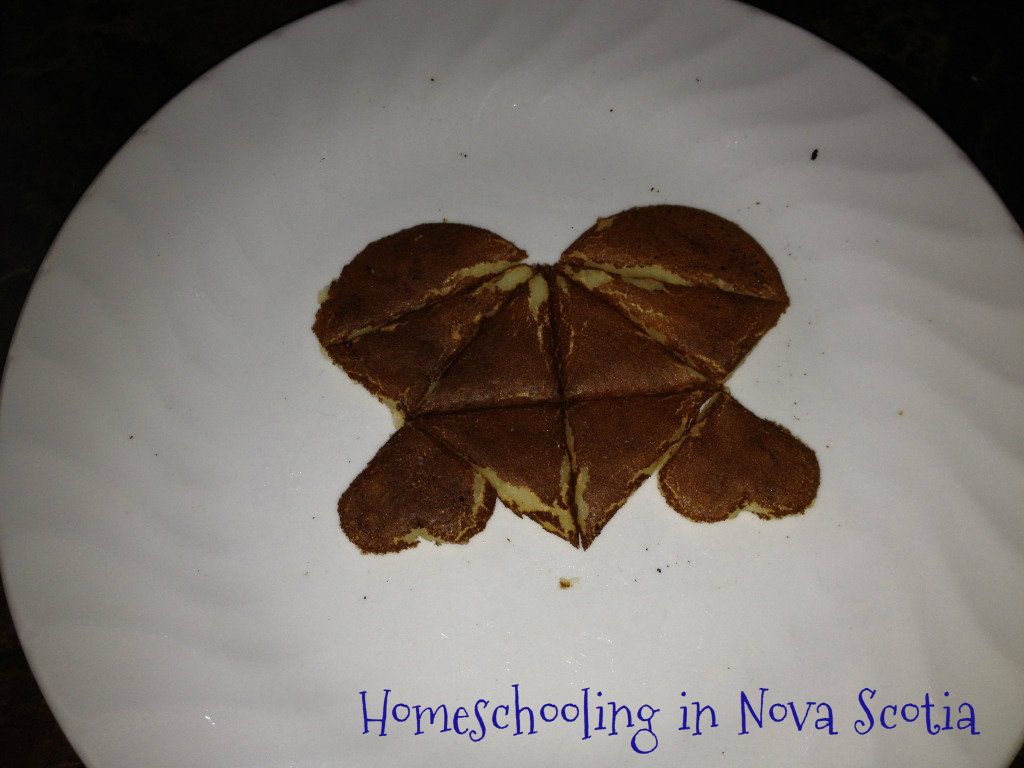 FunBites makes food fun!  The toddlers LOVED these grilled cheese sandwich shapes: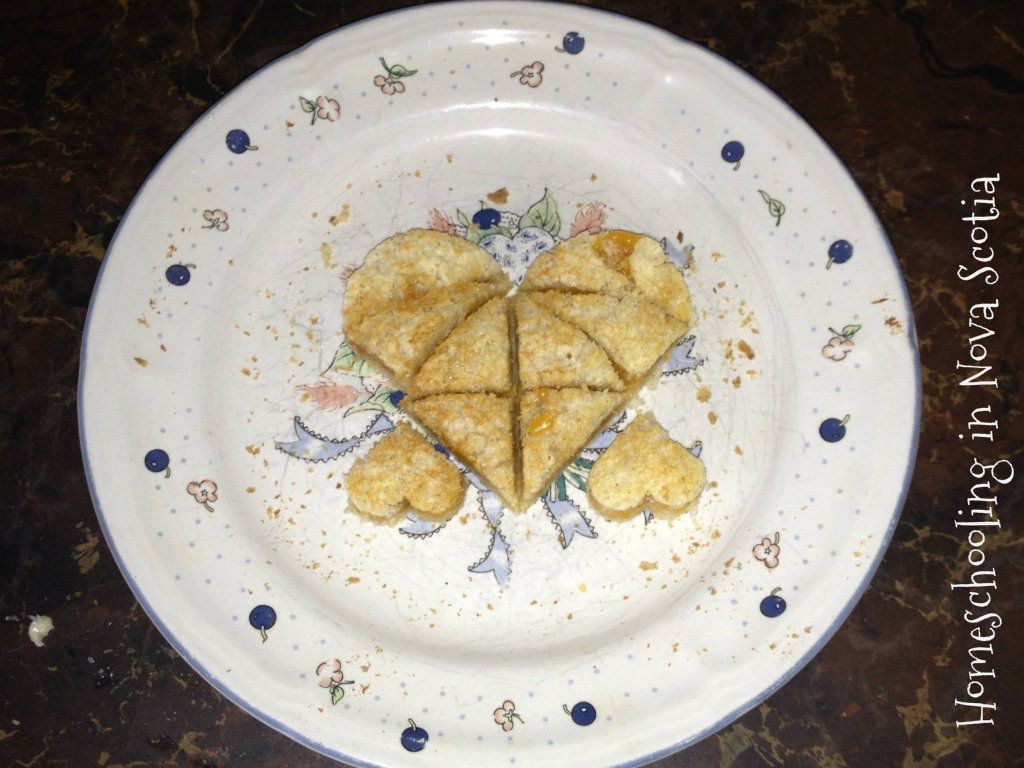 Once you're done using your FunBites, it can be hand-washed or popped in the top rack of the dishwasher.  I found it washed up very easily. You can also make "Fun Bites" out of sliced cheese, brownies, fruit, deli meats, etc.  For more ideas on what you can do with FunBites, check out their FunBites Facebook page or do a search for "FunBites" on Pinterest to see all the creative things other mothers are coming up with.
Being a homeschooler, I'll be continuing to mostly use these for fun at home.  But FunBites would be fantastic for making fun foods for the lunchbox or if you want to get really fancy, to make a bento box for your child's lunch.
FunBites cost $12.99 US each and you can choose between the Luv It! or the Cube It! OR buy one of each as a set for just $22.00 US!  Shipping to Canada is $6.40 US for one or $8.10 US for the set.

Good news!  Bobbie has offered to giveaway one FunBites of your choice (Luv It! or Cube It!) to one of my readers in Canada or the U.S.!  You have until midnight on Sunday, August 19th to get in your entries:

MANDATORY entry – leave a blog post comment below
EXTRA entry – Like Homeschooling in Nova Scotia on Facebook and leave a blog post below letting me know
EXTRA entry – Like FunBites on Facebook and leave a blog post comment below letting me know
EXTRA entry – Follow @HomeschoolingNS on Twitter and leave a blog post comment below letting me know
EXTRA entry – Tweet about this giveaway on Twitter and leave a blog post comment below letting me know
EXTRA entry – Like this post, below, on Facebook and leave a blog post comment letting me know