Everyday Education's Excellence in Literature: Reading and Writing Through the Classics curriculum is designed as a university/college-prep course for Grades 8-12.  I love reading and I love classic literature – I even majored in English and Drama in university.  I was thrilled to receive Excellence in Literature's English I: Introduction to Literature in exchange for an honest review 🙂

The e-book and print version both have 132 pages, and we received the e-book.  What is covered in English I?
Unit 1: Short Stories by
• Sarah Orne Jewett: A White Heron
•Edgar Allen Poe: The Purloined Letter
• Guy de Maupassant: The Diamond Necklace
• O. Henry: The Ransom of Red Chief
• Eudora Welty: A Worn Path
• James Thurber: The Secret Life of Walter Mitty
Unit 2: Jules Verne: Around the World in Eighty Days
Honours: 20,000 Leagues Under the Sea
Unit 3: Mark Twain: A Connecticut Yankee in King Arthur's Court
Honours: The Prince and the Pauper
Unit 4: Charlotte Brontë: Jane Eyre by Charlotte
Honours: Shirley or Villette
Unit 5: George Bernard Shaw's Pygmalion
Honours: Murder in the Cathedral by T.S. Eliot
Unit 6: Robert Louis Stevenson: Treasure Island
Honours: Kidnapped
Unit 7: George Orwell: Animal Farm
Honours: 1984
Unit 8: William Shakespeare: The Tempest
Honours: A Midsummer Night's Dream
Unit 9: Johnathan Swift's Gulliver's Travels
Honours: The Pilgrim's Progress by John Bunyan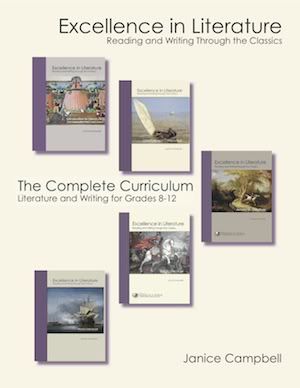 My 12 year old son enjoyed reading all the classic short stories in Unit 1, and had no problem doing the assignments.  I've been enjoying reading along with him – from some of my favourite authors, to ones I've always wanted to read, to ones I'd never even heard of.  I like how the mini literary analysis/observation "papers" build up to a longer essay at the end of the unit.  The course is well set out so that the child can work along very independently. I love how I can challenge my son by opting to flesh out the curriculum with the "Honours track". We'll be working through the rest of Literature I over the course of this year.  We're going to jump around a little and do the Shakespeare unit next, as The Tempest is being performed at the end of the month at the local university – how's that for timing?!
With all the great literature out there to choose from, want to know how Janice Campbell of Everyday Education, chose the literature for Excellence in Literature?  Read her blog post: How I Chose Great Books for Excellence in Literature.  Still not sure if you and your child will like EIL? Click HERE for a FREE unit – Unit 3, focusing on Mark Twain (one of my favourite authors)! And would you like a free writing-evaluation rubric and a great twice-monthly newsletter, The Everyday Educator? Go to Everyday Education and fill out your name and email to the left for your freebies!
The print version of Excellence in Literature: English I is $29.00 US + $13.00 Shipping to Canada ($4.95 to the US).  The downloadable Ebook version is $27 and is designed to be printed double sided and put in a 3 ring binder.  OR get the entire 5-year curriculum for $139.00 US in print + shipping, or $135.00 for the e-book.
Check out the Everyday Education website for information on the full course.  Click below to see how other TOS Crew families enjoyed EIL: