For the last two years, See The Light has been teaching drawing skills with a Biblical perspective and teaching Bible stories through art. I was thrilled to receive a DVD from their Art Class series in exchange for an honest review 🙂
I chose Volume 4 since my 9 year old daughter is very artistic, always drawing, and I wanted her to have some lessons to "sink her teeth into". She loved the DVD!
Volume 4: Color Blending Techniques consists of the following lessons:
Lesson 13: Blending With Colored Pencils
Lesson 14: Practice Makes Perfect
Lesson 15: Blending With Chalk Pastels
Lesson 16: Putting it All Together
In the first lesson, Blending With Colored Pencils, just when my daughter was getting frustrated and impatient, Pat took out the Bible and started chatting about Patience! The timing was perfect.
My daughter was inspired after drawing some fish, a flower, and more along with the lessons on the video. Afterward we finished watching the lessons on the second day, she drew this lovely bird using the techniques she learned with pencil crayons: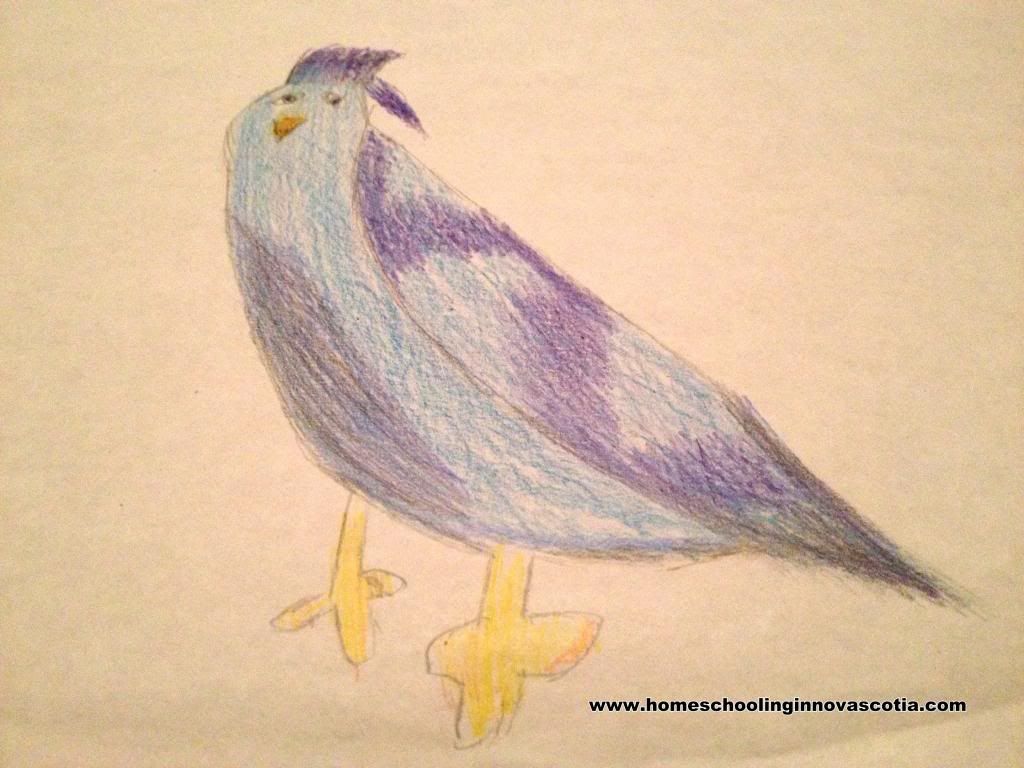 Each DVD only requires basic art supplies such as pencils or pastels that homeschoolers probably already have on hand. Click here to watch a free lesson under "Videos" to see what Art Class is all about. You'll find that artist Pat Knepley is both a skilled artist and a delightful, personable teacher. Be sure to watch the "Trailer" video as well, in which Pat chats with a homeschooling mother of 6 about how she uses the Art Class DVD's. You can also Like and Follow See the Light on Facebook and Twitter, to access all sorts of great art ideas for your kids, daily.
Each Art Class DVD is $14.99 US plus shipping, except the shipping for the Volume 1 DVD is currently free to both the US and Canada! You can also buy the full year, 9 DVD set for $99.99 US. After your child is done this first year set, they can move onto the Year 2 set: Art Projects.
One of my lucky readers is going to win a copy of Volume 1: The Basics! You have until February 18th at midnight Atlantic time to enter. Open to US and Canada only. Just sign in with your email or Facebook and follow the directions. Good luck!