Griddly Games has games for all ages.  Their philosophy is "to offer games that encourage social interation, learning, strategy and challenges that anyone can enjoy."  Sounds like a match made in heaven for homeschoolers like me!  We are huge fans of boardgames in our home and homeschool.  We were delighted to receive Civilize This! in exchange for an honest review 🙂
As soon as I received Civilize This! I was immediately impressed by its quality.  The box is sturdy, and even has a strong magnetic closure.  The cards and die each have their own storage space, and the cards are sturdy and easy to read.  Rules are printed right on the box (no rule sheet to misplace!).  We opened it right up in our car after picking it up at the post office, and started playing it immediately.  My 7 year old daughter walked us through the rules and rolled the die when it was my turn (as I was driving).
Game play is simple.  There are 4 different Card categories: Wise Alec, Ancient, Medieval, and Modern.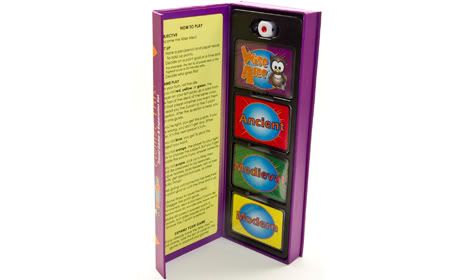 Players role the die and the corresponding card is read.  Wise Alec cards include fun, often physical activities which gain points.  Ancient, Medieval, and Modern cards each include one question worth 3 points and one question worth 7 points.  The 3 pointers are easier, and my 7 year old was able to answer them, while my 12 year old preferred the challenge of the 7 point questions.  Two possible modes of playing are included: a timed game, i.e. the one with the most points in 20 minutes wins, OR a high points game, i.e. the first to reach 50 points wins.  There are other suggested variations, of which my 7 year old loved the suggestion that younger sister only needs 25 points to win, while older brother needs 50, and adults need 75 🙂
This game will be played again and again in our home, just for fun and as a supplement to our history and geography studies.  It is recommended for ages 8 and up, but my 7 year old loved it.  2-4 players are recommended, but you could easily play with a big group in teams.  Civilize This! can be used as a stand-alone travel-sized game, OR as an expansion set to the Wise Alec Family Trivia Game.  We're putting the full trivia game on our wish list!
You can view the rules and a video on game play HERE.  Ask for Civilize This! at your local game or toy store, OR check out Griddly Games' Where to Buy List.
To see what other members of the TOS Crew thought about Civilize This! AND Nature Nuts (another travel game/expansion set available), click below: